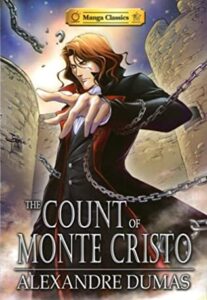 **Disclaimer: I received a free copy of The Count of Monte Cristo by Stacy King through NetGalley in exchange for an honest review.  Thank you to the publishers and NetGalley for this opportunity.
Manga Classics: The Count of Monte Cristo by Stacy King is a graphic novel adaptation of the classic novel The Count of Monte Cristo.  It tells the story of a young man who is badly wronged by people who want what he has and consequently he swears his revenge.  It was published on April 1st, 2017.  I rated it 4 stars on GoodReads.
Here's the summary from GoodReads:
A Conspiracy and a miscarriage of justice turn the gentle Edmond Dantès into an implacable agent of fate: The Count of Monte Cristo . Obsessed by vengeance and empowered by providence, the Count avenges himself on whose who have wronged him – but is this justice, or is this hubris? In the end, does even the Count know?
Alexandre Dumas' skillful narrative combines intrigue, betrayal, and triumphant revenge into a powerful conflict between good and evil. Now this exciting saga, rich and diverse, takes on an entirely new life in this Manga Classics adaptation!
I have never read the original novel of The Count of Monte Cristo, but this was an excellent adaptation.  It did a really good job of taking the story and making it easily accessible for a general audience.  Classics can be really daunting, and this made it easy to read and easy to understand.
The art was well done, and it was really obvious who the various characters were.  The details included in each of the character's designs were really neat.  I liked how much was added to the story by having the visuals to go along with the story.  It really streamlines the story.
I can't speak to how good of an adaptation of it, but it did feel like things were fairly streamlined.  The pacing was really good, and it kept me guessing about what was going to happen next (though obviously if I had already read the classic that wouldn't be the case).
The story was interesting to me.  There are definitely some questionable things that happen by our current day standards, but I was still interested enough to keep reading.  Overall, I had fun while reading and it was a pretty well done book.
If you like easy to read classics, this is totally worth checking out.