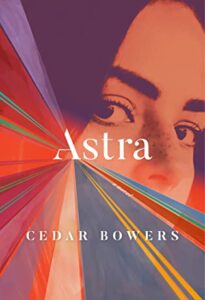 **Disclaimer: I received a free early access copy of Astra by Cedar Bowers through NetGalley in exchange for an honest review.  Thanks to NetGalley and the publishers for this opportunity.
Astra by Cedar Bowers is an adult debut contemporary/literary fiction novel.  It tells the story of a woman named Astra but not through her perspective but from the perspective of the people around her who play a significant role in her life.  I rated it five stars on Goodreads.  It was published on June 1st, 2021.
Here's the summary from Goodreads:
If you could see yourself as others saw you, would you be any closer to the truth of who you really are? In the tradition of Olive Kitteridge and Thirteen Ways of Looking at a Fat Girl, Astra is a beguiling debut novel that reveals the different faces of one enigmatic woman, as seen through the eyes of ten people she encounters over the course of six decades.
Raised on a remote BC commune by a neglectful father, Astra Brine eventually leaves for Calgary, where she struggles to find her way in the world, her life becoming a study of the thin line between dependence and love, need and desire. As her path intersects with others–often only briefly, but always intensely–she will encounter people who, by turns, want to rescue, control, become, change, and escape her, revealing difficult yet shining truths about who they are and what they yearn for. There is the childhood playmate who comes to fear Astra's unpredictable ways; the stranger who rescues her from homelessness and then has to wrestle with his own demons; the mother who hires Astra as a nanny even as her own marriage goes off the rails; the man who takes a leap of faith and marries her.
Even as Astra herself remains the elusive yet compelling axis around which these narratives turn, her story reminds us of the profound impact that an individual can have on those around her, and the power struggles at play in all our relationships, no matter how intimate. A beautifully constructed and revelatory novel, Astra explores what we're willing to give and receive from others, and how well we ever really know the people we love the most.
The thing that drew me to this book was the premise of seeing this woman's story through the eyes of the other people in her life.  I don't think I've ever read anything like that before and I wanted to see how that would work.  As it turned out, it was quite beautifully done.  It definitely made me think about how everyone has a different perspective of you based on when they encountered you and on their own life experience.
Astra was an interesting character with an unconventional life.  However, you don't really get to know what goes through her head until the very end of the novel, so you're left to wonder what is motivating her as each event of the story takes place.  It's interesting to learn about the different characters whose perspective you get to see as well.  The author did a good job of making the characters come alive and feel real.  Astra isn't necessarily a particularly likeable character, but I couldn't help but find myself interested in her and what was going to happen next.
The writing was good, and I quite enjoyed it.  However, the real stand out is definitely Astra and how the story is structured.  It's very interesting.  I also really liked the fact that it was set in Canada and much of it took place in British Columbia, because I don't always get to read books set in my country/province.  It was fun to read about locations that were familiar to me.
I can see how this book won't be for everyone, however, if you're at all intrigued by the premise I definitely think that you should pick it up and give it a read.  I found it quite compelling and an interesting study of character.