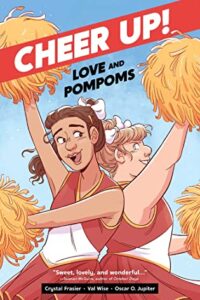 **Disclaimer: I received a free early access copy of Cheer Up by Crystal Fraser and Val Wise through NetGalley in exchange for an honest review.  Thank you to them and to the publisher for this opportunity.
Cheer Up by Crystal Fraser and Val Wise is a YA contemporary graphic novel.  It's about Bebe and Annie who are former friends but reconnect when Annie joins the cheerleading squad.  It deals with some serious issues, but also features a very sweet romance.  It is set to be published on August 10th, 2021.  I rated it 5 stars on Goodreads.
Here's the summary from GoodReads.
A sweet, queer teen romance perfect for fans of Fence and Check, Please!
Annie is a smart, antisocial lesbian starting her senior year of high school who's under pressure to join the cheerleader squad to make friends and round out her college applications. Her former friend BeeBee is a people-pleaser—a trans girl who must keep her parents happy with her grades and social life to keep their support of her transition. Through the rigors of squad training and amped up social pressures (not to mention micro aggressions and other queer youth problems), the two girls rekindle a friendship they thought they'd lost and discover there may be other, sweeter feelings springing up between them. 
This graphic novel was honestly the cutest thing ever.
Let's start with the art.  The art style was really nice.  It looked cartoony, but it suited the storyline and the overall tone of the novel.  I loved that it was full colour because it really helped to make the story come alive and really beautifully represented each of the characters.
I also really loved both of the characters.  I loved how Annie was so unapologetically her, but also that she learned that sometimes you catch more flies with honey than with vinegar.  I also really liked Bebe.  She was a people pleaser, but it came from a place of not wanting to take up more space than was needed, and I can really understand that.  She didn't want to be too much.  I loved watching her grow and learn to assert her boundaries more and more over the course of the story.
I also really loved the diverse cast of background characters.  The cheerleading squad wasn't made up of what you would consider 'conventional' cheerleading types.  They were a diverse group, which made the story that much more interesting.
The storyline was really well done, and I liked watching Annie and Bebe rekindle their friendship and watching it morph into something more.  I felt like they were really well suited to each other, and they were very sweet.
The story did a good job of dealing with some complex issues.  Bebe's parents are overprotective, but she's able to help them see her perspective and how they can't keep her in a bubble to keep her safe.  There's a boy who won't take no for an answer when it comes to Bebe, but the other cheerleaders have her back and ultimately she's able to stand up to him.  Additionally, while the cheerleaders mean well, they (and Annie to some extent) end up trying to speak for Bebe and force her into a spotlight that she doesn't want.  Some of the cheerleaders seem to be doing it for the kudos of supporting a young trans woman, and they learn that they have to respect Bebe's wishes and they can't speak for her.
Overall, it's a very well done story and I loved it so much.  I highly recommend that you check it out when it publishes in August.