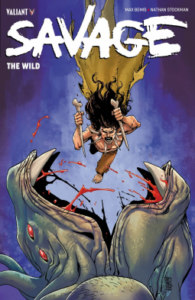 **Disclaimer: I received a free early access copy of Savage: The Wild by Max Bemis through NetGalley in exchange for an honest review.  Thank you to NetGalley and the publishers for this opportunity.
Savage: The Wild is a sci-fi fantasy young adult graphic novel about a young man who got trapped in an alternate dimension and then returned to our world and made into a celebrity.  It is set to be published on July 13th, 2021. I rated it three stars on Goodreads.
Here's the summary from Goodreads:
Teenage heartthrob. Feral social icon. Dinosaur hunter.
Born and raised on an uncharted island full of prehistoric dangers,
Kevin Sauvage has a taste of home when a mutant dino threat invades England!
From the mad minds of international superstar Max Bemis (Moon Knight) and powerhouse artist Nathan Stockman (Spidey) comes the craziest action book of 2020.
Collecting SAVAGE (2020) #1–4.
The premise of this graphic novel was quite interesting.  I was intrigued by the plot of it.  However, I didn't love the execution of this.
The art was really well done and it was really interesting.  I liked the details included to differentiate the different characters.  They each were super readable and had really interesting design aspects.  I loved the monster/dinosaur designs and really liked how they were introduced.
Overall, the story line was interesting.  I liked a lot of the different aspects of the story.  However, I just wanted a bit more development of certain characters and certain aspects of the story.  They didn't really explain the alternate dimension part very well and I wanted more information there.
I enjoyed the twists that were included.  They were surprising for sure.
Overall, if you're interested, I definitely recommend that you check this book out.