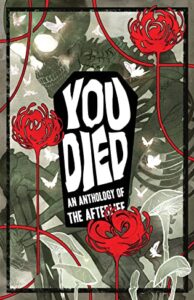 **Disclaimer: I received a free early access copy of You Died by Kel McDonald and Andrea Purcell through NetGalley in exchange for an honest review.  Thank you to the publisher and NetGalley for this opportunity.
You Died: An Anthology of the Afterlife by Kel McDonald and Andrea Purcell is a graphic novel anthology about death and the afterlife.  It was published on September 22nd, 2020.  I rated it 5 stars on Goodreads.
Here's the summary from Goodreads:
Death—the one aspect of life we all have in common—is waiting for everyone, yet our practices, beliefs, myths, and stories about it are as diverse as we are. You Died celebrates these vibrant cultural expressions of the great equalizer in a thrilling, life-affirming whirlwind of a book, an inspirational volume to be treasured through times of both loss and abundance (and every day in between).
At turns both brazen and insightful, morose and optimistic, You Died asks a wide array of cartoonist newbloods and all-stars to relate their most unforgettable tales of death and what comes next. Filled with beautifully illustrated accounts of grief and mourning, ancient myths, memorial rites around the globe, afterlife in the far reaches of space, and the simple and touching ways both the living and the dead carry on, this lively collection starts a comforting and much-needed dialogue about death as a natural part of life.
Featuring an introduction by death positivity movement pioneer and activist mortician Caitlin Doughty and a murderer's row of comics talent, including Raina Telgemeier, Shae Beagle, and Lisa Sterle.
This was an exciting read for me because it came from my first auto-approval on NetGalley.  I didn't request this one, but I'm really excited about the fact that I got to read it.
This was really interesting because I'd never read a graphic novel anthology before.  It was really interesting to read all of the different takes on death and the afterlife.  Each of the artists/story tellers had such a unique and interesting voice that it really brought each and every story to life for me.  I loved how different each story was and how they explored all different aspects of death.
There were some stories that genuinely made me tear up and that's never happened with a graphic novel for me before.  I loved how it depicted grief and people dealing with the loss of people you love and care about.  I really liked the different depictions of the afterlife and what that might look like.
Overall, I really cannot recommend this graphic novel enough.  Please check it out!