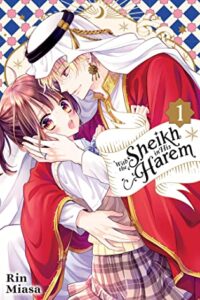 **Disclaimer: I received a free copy of With the Sheikh in His Harem vol 1 by Rin Miasa through NetGalley in exchange for an honest review.  Thank you to the publishers and to NetGalley for this opportunity.
With the Sheikh in His Harem by Rin Miasa is romance manga about a young girl who meets a prince by chance and ends up marrying him after she convinces him not to do something drastic.  It was published on May 5th, 2021.  I rated it 4 stars on Goodreads.
Here's the summary from Goodreads:
Sanagi loves nothing more than money—not even love. After all, it's what keeps her small family going. But when a chance encounter with a stranger leads her to push away his offer of riches, she wonders if she's gone crazy…and starts to believe she really has when he reveals that he's a Sheikh, and proposes to her! She rejects him, but soon finds out that a marriage with him might be the only way to keep her family safe…!
I will admit that I don't really have much experience with manga, so I can't tell you how this one would compare to others.  I did end up giving it 4 stars on Goodreads, but that was because I just had a lot of fun reading it.  It's light and simplistic, and fun.  I'd probably compare it to junk food.
The story line has a fairly simple premise.  A young girl, Sanagi, rescues an Arab prince from the press and then also convinces him to not kill himself.  In return, he asks her to marry him and offers to forgive all of her family's debts and ensure that they will be taken care of.  She agrees to keep her family safe, and moves back to his country where life is a little bit different.
Sanagi isn't the most well rounded character, and neither is Prince Lui.  They're both quite different but they're interesting nonetheless.  I enjoyed their interactions and appreciated where Lui was coming from when it came to Sanagi.  It's definitely not the most unique concept, but I enjoyed it.
I enjoyed the art style as well, and I loved the little fox character that was introduced.  Animal sidekicks are the best.
I will say that I kind of wished that it was longer, because I felt like it was just ramping up when it suddenly ended but I understand that when something's a series, that's just how it works.  I definitely think I'm going to try and continue on with the series.
I won't say that it has particularly great representation of that area of the world, but since the country seems to be fictional, I was willing to suspend my disbelief.
It's definitely worth checking out if you're at all interested.