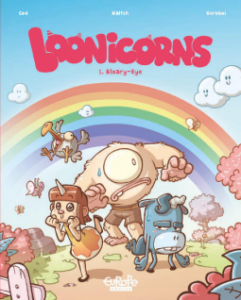 **Disclaimer: I received a free copy of Bleary Eye by Ced through NetGalley. Thank you to NetGalley and the publishers for this opportunity.
Bleary-Eye by Ced is a graphic novel set in a fantasy world.  It's about a unicorn named Kurv and his friends trying to deal with an outside threat that might be spreading a disease across the land that turns people into zombie like creatures.  It was published on April 21st, 2021.  I rated it 3 stars on Goodreads.
Here's the summary from Goodreads:
Welcome to the wonderful world of Looniland, filled with loonicorns, cyclopes, dodos, and other fantastical creatures! Life is good in Looniville… if you're a Pretty. Meanwhile, the Uglies do all the work and get teased and ridiculed. Until, one day, a huge storm blows through, bringing with it a mysterious illness that only seems to affect the Pretties. And in the nearby forest, a strange new creature has landed. Her name is Penelope, and no one has seen anything like her before. Where did she come from? Could she be the cause of this nefarious disease?
The real standout in this graphic novel is the art style.  I loved all the characters and how they were easily identifiable.  It has a very cutesy style, which I really enjoyed.  It felt very appropriate for the story and for the different characters.  The colours were nice as well, and I really appreciated that it was full colour as well.  It wouldn't have worked as well if it wasn't.
The story line was interesting.  I appreciated how it tackled some important issues of systemic inequality in a way that was easily understandable.  It was painfully obvious that Looniland was not equal and that it wasn't okay how things were running.  Though I will admit that the 'Pretties' vs 'Uglies' thing did give me some Uglies by Scott Westerfeld vibes, even though they were tackled in a completely different way.
The story had good momentum and it was an easy read.  I enjoyed the pacing of it.  I didn't get bored, and I wouldn't really change anything about the story.  However, I will admit that some of the humor wasn't to my personal taste and I think that's okay.
Overall, I still recommend that you check out this graphic novel.  It's cute and funny, but it is a little pandemic-y, so if that's not your favourite thing then maybe skip this one.