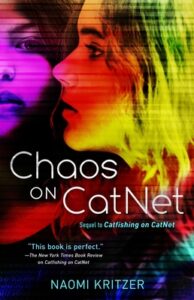 **Disclaimer: I received a free early access copy of Chaos on Catnet by Naomi Kritzer through NetGalley in exchange for an honest review. Thank you to the publishers and NetGalley for this opportunity.
Chaos on Catnet by Naomi Kritzer is a young adult near-future science fiction novel. It is the sequel to Catfishing on Catnet and the second book in the Catnet series. This book picks up some time after the events after the first and we see Steph and her friends dealing with everything that happened while also embarking on a new misadventure. Chaos on Catnet is set to publish on April 27, 2021. I gave it 4 stars on Goodreads.
Here's the summary from NetGalley:
It takes an AI to catch an AI in Chaos on CatNet, the follow-up to Naomi Kritzer's award-winning near future YA thriller.
When a mysterious entity starts hacking into social networks and chat rooms to instigate paranoia and violence in the real world, it's up to Steph and her new friend, Nell, to find a way to stop it—with the help of their benevolent AI friend, CheshireCat.
I was intrigued by the idea of a sequel and seeing what happened to Steph and Rachel and CheshireCat after the conclusion of the previous book, which is ultimately what drew me to request this book. I will keep things a little bit vague because it's a sequel but I feel that this book is less dependent on its predecessor than other sequels are.
The big standout for me with this series is how inclusive it is when it comes to the LGBTQ2S+ community. There are characters of all sexualities and genders, and this book even featured what seemed to me a healthy depiction of polyamory. It's great to see this kind of accepting representation. It's just a fact and I really love that.
I also still really enjoyed the characters. Steph is really interesting and I liked that she actually went to adults for help in this one. That's not something you see often in YA books. I liked seeing CheshireCat develop. I also enjoyed the introduction of Nell, who was not what I expected but it was nice to see her grow as a character. The other AI was also an interesting inclusion and really added to the tension of the novel.
The pacing of the novel was good. Every scene felt necessary and there was a good amount of action and things to keep me guessing about what was going to happen next. It felt like it was the perfect length and there's not anything I would have cut or shortened. I really enjoy how it's our world but just some steps further, and I liked that the author was able to envision a world she wanted to see. I still felt like some of the dialogue was a little awkward, but that's probably because it's fairly realistic dialogue all things considered.
Overall, I had a lot of fun reading this book and if you're at all interested, you should definitely check it and it's predecessor out!