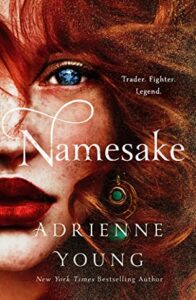 **Disclaimer: I received a free early access copy of Namesake by Adrienne Young through NetGalley in exchange for an honest review.  Thank you to them and the publisher for this opportunity.
Namesake by Adrienne Young is a young adult fantasy novel set in a fictional world where our cast of characters live and die on the seas while trying to make their fortunes.  Fable learns about her history and tries to make a name for herself. It is set to be published on March 16th, 2021.  I rated it five stars on GoodReads.
Here's the summary from Goodreads:
Trader. Fighter. Survivor.
With the Marigold ship free of her father, Fable and its crew were set to start over. That freedom is short-lived when she becomes a pawn in a notorious thug's scheme. In order to get to her intended destination she must help him to secure a partnership with Holland, a powerful gem trader who is more than she seems.
As Fable descends deeper into a world of betrayal and deception she learns that her mother was keeping secrets, and those secrets are now putting the people Fable cares about in danger. If Fable is going to save them then she must risk everything, including the boy she loves and the home she has finally found.
Filled with action, emotion, and lyrical writing, New York Times bestselling author Adrienne Young returns with Namesake, the final book in the captivating Fable duology.
When I finished reading Fable, which I also read as an eARC (review found here), I knew I had to read Namesake.  It had a killer cliffhanger, and I just needed to know what was going to happen.  I fully was not disappointed with the events of this book.  This was an excellent conclusion to the duology, as you might be able to guess considering I rated it 5 stars.
Due to the fact that it is a sequel, I am going to keep my review somewhat vague.  I don't want to spoil the events of the first book.  You should definitely read Fable though.
Namesake picks up pretty much from where we left off.  I felt like not a lot happened in Fable, but that was not true for its sequel.  The story felt really action packed and I kept wondering where things were going.  I appreciated how eventful it was, while also being very well paced.  I wasn't overwhelmed, but the way it was written forced me to want to read it really quickly.
I loved the development of the characters and how we got to know more about Fable and her history.  I also liked learning more about the other characters on the Marigold.  There was a lot of complicated relationships whether it was within friendships, or family, or found family.  People were held accountable for their actions, but it showed how sometimes you can't just let people go.
The ship in this book is not couple goals by any definition of the term, however, I found myself really swept up in the romance and the struggles as they fought to be together.  I wanted them to succeed, but found the strife very fascinating and engaging.
The writing was beautiful, and I loved the chance to further explore the world.  It's a fascinating world, and I really enjoyed the imagery.  The descriptions were really well done.
Overall, I highly recommend this series, and you should definitely check it out if you haven't already.