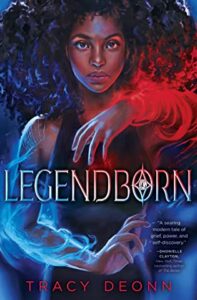 **Disclaimer: I received a free copy of Legendborn by Tracy Deonn through a Goodreads Giveaway.  Thank you to them.
Legendborn by Tracy Deonn is a YA Fantasy novel that deals with Arthurian legends.  It's about a girl named Bree who attends a pre-college program after the death of her mother.  While dealing with her grief, she gets caught up in a greater conspiracy that might have something to do with her mother's death.  I loved it, and rated it 5 stars.
Here's the summary from Goodreads:
After her mother dies in an accident, sixteen-year-old Bree Matthews wants nothing to do with her family memories or childhood home. A residential program for bright high schoolers at UNC–Chapel Hill seems like the perfect escape—until Bree witnesses a magical attack her very first night on campus.
A flying demon feeding on human energies.
A secret society of so called "Legendborn" students that hunt the creatures down.
And a mysterious teenage mage who calls himself a "Merlin" and who attempts—and fails—to wipe Bree's memory of everything she saw.
The mage's failure unlocks Bree's own unique magic and a buried memory with a hidden connection: the night her mother died, another Merlin was at the hospital. Now that Bree knows there's more to her mother's death than what's on the police report, she'll do whatever it takes to find out the truth, even if that means infiltrating the Legendborn as one of their initiates.
She recruits Nick, a self-exiled Legendborn with his own grudge against the group, and their reluctant partnership pulls them deeper into the society's secrets—and closer to each other. But when the Legendborn reveal themselves as the descendants of King Arthur's knights and explain that a magical war is coming, Bree has to decide how far she'll go for the truth and whether she should use her magic to take the society down—or join the fight.
This book has a lot of hype, and honestly it's completely deserved.  Tracy Deonn constructed a fantastic story with many layers and plenty of twists and turns.  I didn't really know what to expect going in despite all the positive reviews, but I'm so glad I read it.  It was beautiful and I cannot recommend it enough.
Firstly, I really enjoyed how the grief was handled.  Bree is dealing with the aftermath of her mother's death for the entirety of this book and I liked how the author translated those into the story and how she showed what Bree was feeling at any given point.  It felt real in a very visceral kind of way and I felt for her.  I worried about her and wanted everything to be okay.
I liked how the magical element was introduced in the story.  It was really interesting to see Bree grapple with this new development in the world and how she fit into it.  I liked the way the world was really expansive and how different groups practiced different types of magic.
I really enjoyed the way that Bree interacted with the characters who surround her.  She had a complicated relationship with her best friend that felt really realistic.  I felt sad for her as she tried to navigate that relationship.  I also felt sad for her as she dealt with her relationship with her father.  I can't even imagine what that would feel like, but I loved how the author brought it to life.
Playing in the world of Arthurian legend isn't an uncommon thing.  I've even read stories where the characters from Arthurian legend are reborn.  However, this felt like a super original take on it.  I love the way that Tracy Deonn made her story feel so unique and different from all the others.  I loved the characters and the way the story was developed.
Overall, I loved this book, and if you haven't read it already, you definitely should!