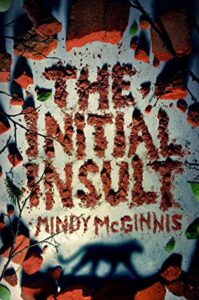 **Disclaimer: I received a free advanced readers copy of  The Initial Insult by Mindy McGinnis through NetGalley in exchange for an honest review.  Thank you to NetGalley and the publishers for this opportunity.
The Initial Insult by Mindy McGinnis is a young adult contemporary mystery novel.  However, it is also a retelling of one of Edgar Allan Poe's classic stories.  It revolves around two girls, Felicity and Tress.  Felicity was with Tress' parents when they went missing seven years ago, and Tress has plans to figure out what happened to them.  The Initial Insult is set to be published on February 23rd.  I rated it four stars on GoodReads.
Here is the summary from GoodReads:
Welcome to Amontillado, Ohio, where your last name is worth more than money, and secrets can be kept… for a price.
Tress Montor knows that her family used to mean something—until she didn't have a family anymore. When her parents disappeared seven years ago while driving her best friend home, Tress lost everything. She might still be a Montor, but the entire town shuns her now that she lives with her drunken, one-eyed grandfather at what locals refer to as the "White Trash Zoo," – a wild animal attraction featuring a zebra, a chimpanzee, and a panther, among other things.
Felicity Turnado has it all – looks, money, and a secret that she's kept hidden. She knows that one misstep could send her tumbling from the top of the social ladder, and she's worked hard to make everyone forget that she was with the Montors the night they disappeared. Felicity has buried what she knows so deeply that she can't even remember what it is… only that she can't look at Tress without having a panic attack.
But she'll have to.
Tress has a plan. A Halloween costume party at an abandoned house provides the ideal situation for Tress to pry the truth from Felicity – brick by brick – as she slowly seals her former best friend into a coal chute. With a drunken party above them, and a loose panther on the prowl, Tress will have her answers – or settle for revenge.
In the first book of this duology, award-winning author Mindy McGinnis draws inspiration from Edgar Allan Poe and masterfully delivers a dark, propulsive mystery in alternating points of view that unravels a friendship . . . forevermore.
I was really excited when I heard about this book coming out.  I really like Mindy McGinnis as a writer, and she's definitely up there on my list of people I want to read books from.  Additionally, I was especially excited when I heard about The Initial Insult because I also love Edgar Allan Poe and the idea of a whole novel retelling one of his stories is really interesting to me.  I ended up requesting it as a voice galley because I couldn't get the eARC, but that worked out really well, even if the synthesized voice is a little bit weird.
Overall, this was a really interesting story.  I really liked the different points of view we got as both Tress and Felicity had a really interesting perspectives and were really different characters.  I also enjoyed the point of view of the panther.  It was a unique little twist to the story.
I also liked the structure of this story where we got the modern timeline, and how McGinnis layered in flashbacks to tell the story of what pulled these two apart and also some of the answers that Tress is looking for.  I liked that we also would get the point of both girls when it came to those flashbacks so we would get to see both sides of things.  Honestly, the story was really well constructed, and things that were mentioned briefly before, were always picked up later on in the story.
I really appreciated the retelling aspect.  I don't have all of Edgar Allan Poe's stories memorized, but I liked the subtle and not so subtle references to them.  This was a really good retelling.
I will admit that the cliffhanger at the end of the story killed me a little bit.  I really need to know what happens next and I don't know when the next book is coming out.
Overall, I definitely recommend this story.  You should check it out when it publishes on February 23rd!