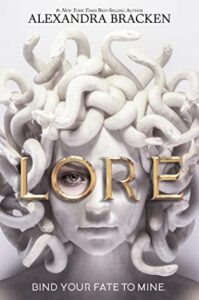 **Disclaimer: I received a free early access copy of Lore by Alexandra Bracken through NetGalley in exchange for an honest review.  Thank you to them and the publisher for this opportunity.
Lore by Alexandra Bracken is a young adult fantasy novel set in a world where the Greek gods walk the Earth as humans.  Lore thought she escaped the world she was raised after the murder of her parents, but finds herself sucked back in. It is set to be published on January 5th, 2021.  I rated it five stars on GoodReads.
Here's the summary from Goodreads:
From the #1 New York Times best-selling author of The Darkest Minds comes a sweepingly ambitious, high-octane tale of power, destiny, love and redemption.
Every seven years, the Agon begins. As punishment for a past rebellion, nine Greek gods are forced to walk the earth as mortals, hunted by the descendants of ancient bloodlines, all eager to kill a god and seize their divine power and immortality.
Long ago, Lore Perseous fled that brutal world in the wake of her family's sadistic murder by a rival line, turning her back on the hunt's promises of eternal glory. For years she's pushed away any thought of revenge against the man–now a god–responsible for their deaths.
Yet as the next hunt dawns over New York City, two participants seek out her help: Castor, a childhood friend of Lore believed long dead, and a gravely wounded Athena, among the last of the original gods.
The goddess offers an alliance against their mutual enemy and, at last, a way for Lore to leave the Agon behind forever. But Lore's decision to bind her fate to Athena's and rejoin the hunt will come at a deadly cost–and still may not be enough to stop the rise of a new god with the power to bring humanity to its knees.
I found myself really intrigued by the premise of those book, and ended up requesting it twice because I got approved for the chapter sampler first, and I wanted to read the whole book.  I am SO glad that I did, because I absolutely loved the story and it's officially my first five star read of 2021.
This story was a bit of a slowburn despite the fact that it took place over a few short days.  It was very well paced with good moments of action in between moments of world building.  This was a really cool world.  I liked the roots in mythology while being cemented in a modern world.  I am a sucker for a good urban fantasy, and this one fully didn't disappoint.  I know that Greek mythology is something that has been explored a lot in young adult fiction, but I felt that the way that the gods and their stories were included in the world was really original, and I was very impressed.
I loved Lore as a main character.  She's got a lot of traits that make her a typical hero, but she was still reluctant to get back into it, which is a feature I love.  I also really sympathised with her story and how she felt like she didn't fit in, and how she was blaming herself for various things that happened.  She's not typically likeable, but I honestly really enjoyed her and she's probably one of my new fave female characters.
The story was well constructed.  The action scenes were well paced out so that I wasn't completely stressed out and biting my nails the entire time.  There were moments to recover and recollect but never long enough to get too comfortable.  The story kept me guessing with who could be trusted and who was on the right side of things.  I appreciated that the exposition was well done and I didn't feel overwhelmed or overly confused.  Information was revealed at just the right pace.  I also liked the inclusion of flashbacks to show what things were like for Lore prior to the events of the novel.
The side characters were also quite well developed.  I really enjoyed how the characters came together and split and just overall how all their relationships developed.  They felt real, and the author did a good job at making me fall in love with the characters pretty quickly.
Overall, I had a really good time reading this book, and I highly recommend that you check it out when it releases on January 5th.