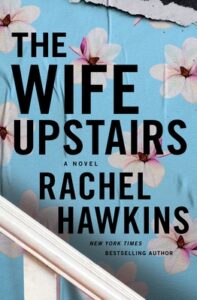 **Disclaimer: I received a free early access copy of The Wife Upstairs by Rachel Hawkins through NetGalley in exchange for an honest review.  Thank you to them and the publisher for this opportunity.
The Wife Upstairs by Rachel Hawkins is an adult thriller novel that is also a retelling of Jane Eyre.  Jane is trying to make a better life for herself, and gets caught up in a complicated situation with a handsome, wealthy man.  As they get closer, she starts to realize that perhaps things are not what they seem. It is set to be published on January 5th, 2021.  I rated it four stars on GoodReads.
Here's the summary from Goodreads:
A delicious twist on a Gothic classic, Rachel Hawkins's The Wife Upstairs pairs Southern charm with atmospheric domestic suspense, perfect for fans of B.A. Paris and Megan Miranda.
Meet Jane. Newly arrived to Birmingham, Alabama, Jane is a broke dog-walker in Thornfield Estates––a gated community full of McMansions, shiny SUVs, and bored housewives. The kind of place where no one will notice if Jane lifts the discarded tchotchkes and jewelry off the side tables of her well-heeled clients. Where no one will think to ask if Jane is her real name.
But her luck changes when she meets Eddie Rochester. Recently widowed, Eddie is Thornfield Estates' most mysterious resident. His wife, Bea, drowned in a boating accident with her best friend, their bodies lost to the deep. Jane can't help but see an opportunity in Eddie––not only is he rich, brooding, and handsome, he could also offer her the kind of protection she's always yearned for.
Yet as Jane and Eddie fall for each other, Jane is increasingly haunted by the legend of Bea, an ambitious beauty with a rags-to-riches origin story, who launched a wildly successful southern lifestyle brand. How can she, plain Jane, ever measure up? And can she win Eddie's heart before her past––or his––catches up to her?
With delicious suspense, incisive wit, and a fresh, feminist sensibility, The Wife Upstairs flips the script on a timeless tale of forbidden romance, ill-advised attraction, and a wife who just won't stay buried. In this vivid reimagining of one of literature's most twisted love triangles, which Mrs. Rochester will get her happy ending?
I was super excited when I heard Rachel Hawkins was coming out with an adult thriller.  She's become one of my favourite writers lately and I love who she is as a person (from what I can tell off of Twitter).  I was also super interested in the premise of this book because Jane Eyre was one of the very first classics I read of my own volition.
Jane was a very compelling narrator.  I liked that she didn't come across as traditionally meek even if everyone around her seemed to assume that she was.  She had a very intriguing personality and she really kept me guessing.  I wanted her to succeed, even if her motives and past were mysterious.
The basic premise of the story was really well done.  I liked the mystery of what happened to Bea and her friend and how that loomed over Jane's new relationship and how Jane felt haunted by her presence.  I liked trying to guess what was happening and how I absolutely did not have it right.
Each point of view was really well done, and I quite enjoyed how Rachel Hawkins drew the story out and made you want to know more.  It was also a relatively short read, and I enjoyed the pacing of it.
The retelling aspect of this book was also well done, and I highly recommend that you check this book out when it publishes on January 5th.