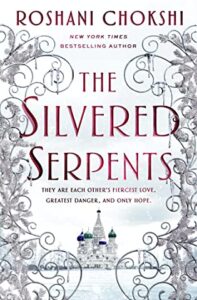 **Disclaimer: I received a free early access copy of The Silvered Serpents by Roshani Chokshi through NetGalley in exchange for an honest review.  Thank you to them and the publisher for this opportunity.
The Silvered Serpents by Roshani Chokshi is a young adult fantasy novel set in the past of our world.  It is the second book in The Gilded Wolves series. It is set to be published on September 22nd, 2020.  I rated it four stars on GoodReads.
Here's the summary from NetGalley:
Returning to the dark and glamorous 19th century world of her New York Times instant bestseller, The Gilded Wolves, Roshani Chokshi dazzles us with another riveting tale as full of mystery and danger as ever in The Silvered Serpents.
They are each other's fiercest love, greatest danger, and only hope.
Séverin and his team members might have successfully thwarted the Fallen House, but victory came at a terrible cost — one that still haunts all of them. Desperate to make amends, Séverin pursues a dangerous lead to find a long lost artifact rumored to grant its possessor the power of God.
Their hunt lures them far from Paris, and into the icy heart of Russia where crystalline ice animals stalk forgotten mansions, broken goddesses carry deadly secrets, and a string of unsolved murders makes the crew question whether an ancient myth is a myth after all.
As hidden secrets come to the light and the ghosts of the past catch up to them, the crew will discover new dimensions of themselves. But what they find out may lead them down paths they never imagined.
A tale of love and betrayal as the crew risks their lives for one last job.
I'm going to keep this review somewhat vague as it's a sequel and you really need to read the first one or else this book will make no sense to you.  I had a really good time with the first book.  Lots of people said it was confusing, but personally I didn't think it was.  I thought the world was really interesting, and I loved the development of the characters and each of their unique voices.  So I was really excited when I was approved for the sequel.
All the things that I loved about the first book were present in the second.  I absolutely loved the characters still, and the multiple points of view included are a real highlight.  I love each and every character that you get a point of view for.  Zofia and Laila are my particular favourites, but I also really enjoyed reading from Severin and Enrique's points of view.
I also still loved the setting.  The historical setting is a really interesting aspect, and I love the juxtaposition of the history and the magical elements.  This book didn't take place in Paris for the most part, except for the set up, but the Russian setting was still really interesting and fun to explore as well.
The overall story took some time to build up, but there was a good sense of suspense as it built to the climax.  There were certain time constraints that put added pressure on our protagonists, which really added to suspense.  It also kept me guessing with who I should be trusting and who was the bad guy.
I absolutely loved the cliffhanger ending, and all I can say is that I need the next one as soon as possible!
I highly recommend that you check out The Gilded Wolves if you haven't already, and if you have, please pick up The Silvered Serpents when it publishes on September 22nd.