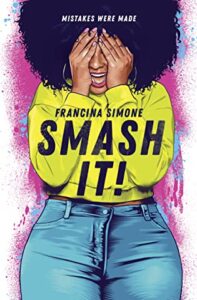 **Disclaimer: I received a free advanced reader copy of Smash It by Francina Simone from the publisher through NetGalley in exchange for an honest review. Thank you to them for this opportunity.
Smash It by Francina Simone is a young adult contemporary novel. It is an #ownvoices coming of age story, and also a retelling of the Shakespearean play Othello.  The book publishes on September 22nd, 2020.  I rated it four stars.
Here's the summary from Goodreads:
Refreshingly authentic and bold… Don't miss this smashing #ownvoices novel from Francina Simone! Filled with heart, humor and a heroine to root for, Smash It! is a perfect read for fans of Julie Murphy, Ibi Zoboi and Ashley Poston.
Olivia "Liv" James is done with letting her insecurities get the best of her. So she does what any self-respecting hot mess of a girl who wants to SMASH junior year does…
After Liv shows up to a Halloween party in khaki shorts–why, God, why?–she decides to set aside her wack AF ways. She makes a list–a F*ck-It list.
1. Be bold–do the thing that scares me.
2. Learn to take a compliment.
3. Stand out instead of back.
She kicks it off by trying out for the school musical, saying yes to a date and making new friends. Life is great when you stop punking yourself! However, with change comes a lot of missteps, and being bold means following her heart. So what happens when Liv's heart is interested in three different guys–and two of them are her best friends? What is she supposed to do when she gets dumped by a guy she's not even dating? How does one Smash It! after the humiliation of being friend-zoned?
In Liv's own words, "F*ck it. What's the worst that can happen?"
A lot, apparently.
#SMASHIT
I am working to make sure that I am reading more diversely and reading more diversely consistently.  This book sounded great and I had been hearing good things, so I requested it and was excited to pick it up when I found out that I got approved.  I love retellings, and I'm especially fond of Shakespearean ones, and while I'm not super familiar with Othello, I was still really excited to see how the story played out.
The star of this novel is Liv.  She's a delightfully flawed character, and it's really great to watch her grow as a person.  She learns about herself and her feelings, and how to be a better person.  She struggles with being more confident and with her love life.  She can be selfish, and she can also be somewhat impulsive once the story gets underway.  However, she grows and she becomes a mostly better person.  It was a really great journey to watch.
The love story aspect was really interesting.  For the most part, this was a pretty sex positive YA novel, which I didn't fully expect but appreciated.  I will say that I could have done without the sex scene because while I don't mind characters talking about sex, I don't really want to read about high schoolers actually having it.  Just seems a little weird to me.  It wasn't like super graphic, it just wasn't something I wanted to read.  However, I really found each of her love interests interesting as characters.  They were each unique, and brought something different to the table. Also friends to lovers is one of my favourite tropes.
I also really enjoyed the play aspect.  I liked reading about Liv going through the audition and rehearsal process.  I loved that she fell in love with theatre and found something that she can be really passionate about.  There were some interesting relationships between characters that developed in this area.  It was also really interesting to read about the various family dynamics.
However, I will mention that there were some problematic insults/statements about characters' ethnicity that were not my favourite thing to read and may make some readers uncomfortable, so beware of those going into the book.  I understand that yes, sometimes teenagers will say things that are problematic, but I think other characters maybe should have called them out on it.  However, I'm not necessarily the best one to speak to that.
Anyways, overall, I had a good time reading this book and if you're at all interested, it's definitely worth checking out when it comes out on September 22nd!