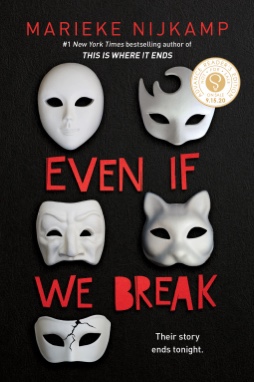 ** Disclaimer: I received a free advanced reader's copy of Even If We Break by Marieke Nijkamp through NetGalley in exchange for an honest review. Thank you to NetGalley and the publishers for this opportunity.
Even If We Break by Marieke Nijkamp is a young adult mystery thriller set at an isolated cabin on a mountain. It is about five friends who play a roleplay game together, and who are getting together for the last time only for things to go horribly wrong. Even If We Break is set to publish on September 15th, 2020. I rated it 4 stars on Goodreads.
Here is the summary from NetGalley:
From Marieke Nijkamp, the #1 New York Timesbestselling author of This is Where it Ends, comes a shocking and page-turning new thriller that asks how far you will go to hold onto broken friendships.
As you can see, the summary of Even If We Break doesn't really give you much to work with. It doesn't really tell you much about the premise, but honestly that's not a bad way to go into this book. I found myself drawn to this book because of the author. I read another book by Marieke Nijkamp last summer and I absolutely loved it, and I wanted to check out other things she had written. I was not disappointed by this book.
The book features the five points of view from the group of friends playing the game: Ever, Carter, Maddy, Finn, and Liva. This was a really stand out feature of this book because it added to the suspense and also kept you guessing. Because you got a piece of each of the characters' thoughts and feelings, it made it hard to know who to trust and who might be the one behind it all.
I also really appreciated that while the group is self-admittedly not racially diverse, they are diverse in other ways. Ever is nonbinary, Finn is trans, and Maddy is autistic. There is also an implication that Maddy and Carter might be bisexual. I cannot speak to the accuracy of the representation in the book but the acknowledgements at the end stated that Marieke is autistic and her website's FAQ states that she is non binary as well, so it definitely seems to be own voices. (Note: I used she/her pronouns when referring to the author because she said she prefers to use those professionally and they them personally. The author's biography used she/her.). I felt that all of the representation was well done, but as I don't personally identify as any of those identities, I can't say much more than that. I just really liked how unique each of the characters was, and how they were different from a lot of the perspectives that are so prevalent.
I also thought that the nuances of the relationships between the different friends were quite interesting.
Plot wise, I really enjoyed the story. The inclusion of the roleplay game storyline was of particular interest to me because it seems like a lot of fun, and I'm starting to find an interest in Dungeons and Dragons. I liked the world that Ever, the game's GM, built and I wished that I too could play in it. It was a really cool feature to include, especially since it was the bonding point for this otherwise unlikely group of friends.
Outside of the roleplay game, and looking at the overarching plot, I had a lot of fun reading this book. It made me cringe and gasp and definitely kept me guessing. There were a few points that I wasn't as keen on, but that's more of a preference thing and I don't want to be specific because I don't want to spoil it. I will say that the pacing was a little bit strange in places as well. However, I did devour this book in the better part of two sittings so it clearly was still quite a good time.
The setting of this book was perfect. Nothing amps up tension like a spooky and isolated cabin surrounded by forest. I really appreciated the detail included in this story.
For these reasons and many more, I highly recommend that you check out Even If We Break when it publishes on September 15th.