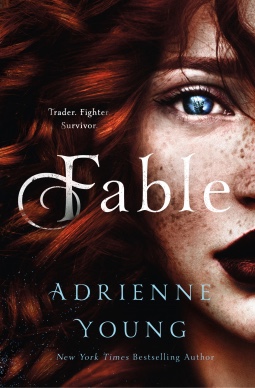 **Disclaimer: I received a free advanced reader's copy of Fable by Adrienne Young through NetGalley in exchange for an honest review. Thank you to NetGalley and the publishers for this opportunity!
Fable by Adrienne Young is the first of two books in the Namesake duology. It is a young adult fantasy novel set in a seafaring world, and tells the story of a teenage girl named Fable who is just trying to survive and get by. Fable is set to be published on September 1st, 2020. I gave it 4 stars on Goodreads.
Here's the summary from Goodreads:
Filled with all of the action, emotion, and lyrical writing that brought readers to Sky in the Deep, New York Times bestselling author Adrienne Young returns with Fable, the first book in this new captivating duology.
Welcome to a world made dangerous by the sea and by those who wish to profit from it. Where a young girl must find her place and her family while trying to survive in a world built for men.
As the daughter of the most powerful trader in the Narrows, the sea is the only home seventeen-year-old Fable has ever known. It's been four years since the night she watched her mother drown during an unforgiving storm. The next day her father abandoned her on a legendary island filled with thieves and little food. To survive she must keep to herself, learn to trust no one and rely on the unique skills her mother taught her. The only thing that keeps her going is the goal of getting off the island, finding her father and demanding her rightful place beside him and his crew. To do so Fable enlists the help of a young trader named West to get her off the island and across the Narrows to her father.
But her father's rivalries and the dangers of his trading enterprise have only multiplied since she last saw him and Fable soon finds that West isn't who he seems. Together, they will have to survive more than the treacherous storms that haunt the Narrows if they're going to stay alive. 
Fable takes you on a spectacular journey filled with romance, intrigue and adventure.
Kari was the one who alerted me to the existence of this book. Adrienne Young is one of her autobuy authors after all. However, I read the summary and found myself intrigued. I knew I was going to have to pick up this book for myself to read and that's why I requested it. I was super excited when I got approved for the title.
Fable had a really interesting concept. I liked the premise of a girl left behind in dangerous territory and being forced to fend for herself and having to fight for what she's owed. Fable really stood out as a main character. I really admired her and what she achieved over the course of the novel. I was also really intrigued by her history and her abilities. I really wanted her to succeed and I very much sympathized with her as a character.
Outside of Fable, I felt that most of the cast of side characters were well developed. You learn a lot about her father and how he is a flawed person but also not someone completely without emotions. He's an interesting figure and I'm curious about how he'll play into the sequel. You also learn a lot about West, who is definitely a fascinating character. He has a lot of depth, only some of which has been explored, and I feel like a lot of people will be calling him their book boyfriend.
The setting in this book was amazing. You could really picture the various areas that the book took place. There were areas of the city that when described made me crinkle my nose. Then later when they encountered a dangerous patch of the sea, I was nervous for the characters and their ability to safely traverse it. Adrienne Young did a really good job at world building, but based on what I've read before, I think world building is a particular strength of hers.
There was a romance in this book, and while I won't spoil it too much. I loved how it complemented the story. It didn't take over or derail the plot; it accentuated it. I also loved how slow burn it was. There was really good development of it over the course of the novel.
The weird thing about Fable was how it seemed like not much happened in the book, but a lot did happen. It swept you along like a current, and through each event at a good pace. By the end, I had to take some time to process that there were moments of action and excitement. I know this kind of sounds like a bad thing, but honestly I really enjoyed how this book was written.
In the end, it ended with a cliffhanger and so now I desperately need the second one.
For all these reasons and more, I highly suggest that you pick up Fable, when it comes out on September 1st.