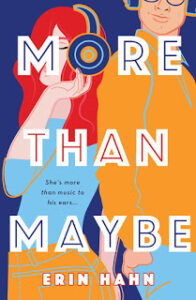 **Disclaimer: I received a free early advanced reader's copy of More Than Maybe by Erin Hahn in exchange for a honest review through NetGalley.  Thank you to NetGalley and the publishers for this opportunity.
More Than Maybe by Erin Hahn is a YA contemporary romance novel.  It features a dual point of view with both of our main love interests, and takes place in Michigan.  The novel features Hahn's signature mix of music and romance, and was a sweet and fun read.  I gave it 5 stars on GoodReads.  It publishes on July 21st, 2020.
Here's the summary from GoodReads:
Growing up under his punk rocker dad's spotlight, eighteen-year-old Luke Greenly knows fame and wants nothing to do with it. His real love isn't in front of a crowd, it's on the page. Hiding his gift and secretly hoarding songs in his bedroom at night, he prefers the anonymous comfort of the locally popular podcast he co-hosts with his outgoing and meddling, far-too-jealousy-inspiringly-happy-with-his-long-term-boyfriend twin brother, Cullen. But that's not Luke's only secret. He also has a major un-requited crush on music blogger, Vada Carsewell.
Vada's got a five year plan: secure a job at the Loud Lizard to learn from local legend (and her mom's boyfriend) Phil Josephs (check), take over Phil's music blog (double check), get accepted into Berkeley's prestigious music journalism program (check, check, check), manage Ann Arbor's summer concert series and secure a Rolling Stone internship. Luke Greenly is most definitely NOT on the list. So what if his self-deprecating charm and out-of-this-world music knowledge makes her dizzy? Or his brother just released a bootleg recording of Luke singing about some mystery girl on their podcast and she really, really wishes it was her?
I was so excited when I heard Erin Hahn was coming out with a second book.  I loved You'd Be Mine, her debut, and I knew that I needed to read her second book.  Pretty much as soon as I heard it was coming out, I hopped on NetGalley to request it and I was so excited to find out I got approved.  I had high expectations for this book and I absolutely was not disappointed.  It was the perfect read for me right now.
I want to start with the fact that I loved both of the main characters.  Luke and Vada were both precious, and I loved how fully developed and real they felt. Each of their perspectives were unique and I really loved how they came together. I also liked watching them develop over the course of the novel, and seeing how they dealt with the various problems that arose.  I felt like their reactions were realistic and natural.  None of it felt forced.
The romance in this novel was delightful.  I loved that it was a slowburn just as much as I loved the fact that Erin Hahn promises a happily ever after.  You find out early on that both Luke and Vada have a crush on the other and so you're eagerly rooting for them to figure it out and finally get together.  The romance grows and develops, and I found myself really devouring the story because I absolutely needed to know what happened next.
There was a part of me that predicted how things were going to play out, but I'm not a reader who is typically bothered by this.  I like trying to guess, and I'm fine if I'm wrong but also fine if I'm right.  In this case I was fine to be right, though I definitely didn't predict the exact way things would play out.  I just loved having ideas about what was going to happen, and overall it was just such a fun read.
I also really enjoyed most of the side characters in this book.  Each of them felt well developed and not tropey.  I loved Cullen and Zack together.  They were really cute.  I also loved the dynamics between Vada and Phil.  He was such a good role model/father figure for her.  I had all of the squishy feels about their family.
Music was also such a huge part of this book.  The way that Erin Hahn incorporates music into her stories always really impresses me.  It makes me wish I was more interested in music or that I had more musical talent.  I like that she includes songs in her book.
Overall, this was an amazing read.  I had such a fun time reading it, and seeing Luke and Vada grow together.  If you're looking for a sweet romance, I highly recommend this one.  Make sure to check it out when it releases on July 21st.