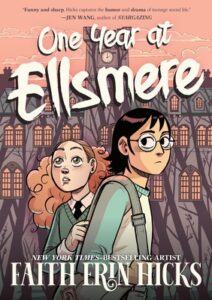 **Disclaimer: I received a free early access readers copy of One Year at Ellsmere by Faith Erin Hicks from the publishers and NetGalley in exchange for an honest review.  Thanks to the publishers and NetGalley for this opportunity.
One Year at Ellsmere by Faith Erin Hicks is a Middle Grade contemporary graphic novel with some elements of magical realism.  It's set at a fancy boarding school and focuses on a young girl named Juniper who transfers into the school in order to improve her education.  I gave the graphic novel 4 stars on Goodreads.  It publishes on July 14th, 2020.
Here's the summary from Goodreads:
With revamped art and now in full color, One Year at Ellsmere is a middle grade friendship story from Faith Erin Hicks!
Was boarding school supposed to be this hard?
When studious thirteen-year-old Juniper wins a scholarship to the prestigious Ellsmere Academy, she expects to find a scholastic utopia. But living at Ellsmere is far from ideal: She is labeled a "special project," Ellsmere's queen bee is out to destroy her, and it's rumored that a mythical beast roams the forest next to the school.
I don't think that my opinions on this book will be the same as everyone else's.  I gave some reviews a quick read through and it seems like most people rated it lower than I did.  However, while I understand why they gave it that low rating, I really enjoyed this graphic novel.  It was cute, and while I'm not necessarily the intended audience, I really had a good time reading it.
I loved the art style of this book.  It was super cute and well suited to the story that was being told.  I liked how each of the characters had their own unique style, and the colouring of them was very nice.  It suited the story really well.
Story wise, it wasn't the most eventful.  However, I really liked what was featured.  Kids adapting to a new environment and trying to deal with mean girls is a totally relatable experience.  However, I never would have guessed that these kids were supposed to be around 13 based on some of the things that they were studying.  There was one aspect of magical realism in the story that kind of came out of nowhere, but I really didn't mind it.  It was surprising but enjoyable.
I also loved the friendship between Juniper and her roommate.  It was very sweet.
It's not the most exciting book, but I had a fun time reading it, and if you're at all interested I definitely think it's worth checking out!