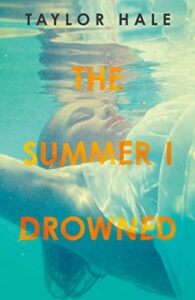 **Disclaimer: I received a complimentary eARC of The Summer I Drowned by Taylor Hale in exchange for an honest review from NetGalley.  Thank you to NetGalley and the publishers for this opportunity.
The Summer I Drowned by Taylor Hale is a young adult mystery thriller.  It is about a teenage girl named Olivia who is attempting to deal with her post-traumatic stress disorder from when she nearly drowned as a young teen.  Five years later she has returned to the place where it all happens.  I gave The Summer I Drowned three stars on GoodReads.  The Summer I Drowned releases on July 7th.
Here's the summary from GoodReads:
The past always resurfaces…
Five years after almost drowning, Olivia Cathart returns home to Caldwell Beach determined to face her fears and take some risks―not just by swimming, but by opening her heart. Hoping to rekindle her friendships, she's excited about a carefree summer with her best friends Keely and Miles. But life in the sleepy town has changed, and no one and nothing is as it seems.
When a series of startling crimes threaten Olivia's fragile state, she is plunged into a terrifying game of cat and mouse. Her only solace from the chaos is West, Miles's disowned and ruggedly handsome brother, but even he can't answer the question on everyone's minds―is Olivia really in danger or is it simply all in her head?
I definitely felt that the plot of this story as described in the blurb.  It seemed like an interesting premise and I liked the idea of the small town vibes with eerie and mysterious happenings.  However, I ended up being disappointed with how things played out in the long run.  However, because overall I had fun and wanted to keep reading, I ended up giving it three stars.
The one really good thing about this book was that it kept me guessing.  I didn't know what was happening when it came to the mystery of the story.  I don't mean this in a way that it was vague, but in that the mystery was intriguing enough that I was absorbing the details and trying to figure out the 'whodunnit' but left me enough mystery that I didn't figure it out immediately.  This was probably my favourite part of the story, along with the fact that Olivia was occasionally portrayed as an unreliable narrator because of her PTSD.  I always like when there is a little bit of a reason to doubt a main character.
However, I wasn't really a big fan of how the mystery concluded.  It was a logical ending, but it felt like a bit of a disappointment.  I also wasn't a huge fan of the romance.  I liked the idea of the match between Olivia and West, but I didn't like how violent he was with others, including his siblings, when Olivia expressed discomfort with it.  I also felt like some of the things that Olivia fixated on, such as why didn't West accept her follow request on instagram, felt overly juvenile.  I do recognize that they are teenage characters so it's possibly a realistic reaction but just not from my adult perspective.
The story was interesting, but on the whole there was just something about it that wasn't really for me.  I'm sure some people will love this, so I'm not saying don't read it, but it just wasn't my particular cup of tea.  So if anything about this book intrigues you, it might be worth checking out when the book publishes on July 7th.
Thank you again to the publishers and NetGalley for this opportunity.