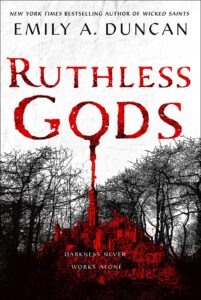 ***Disclaimer: I received a free early access copy of Ruthless Gods by Emily A. Duncan from NetGalley and St. Martin's Press for review purposes. Thank you so much!
I was able to get an early look at Wicked Saints last year, so I'm so grateful that I was able to get to do the same with the sequel! The first book was super enjoyable, however, I believe this time the sequel was even better.
There will be slight spoilers in this review.
Goodreads summary:
Darkness never works alone…

Nadya doesn't trust her magic anymore. Serefin is fighting off a voice in his head that doesn't belong to him. Malachiasz is at war with who–and what–he's become.

As their group is continually torn apart, the girl, the prince, and the monster find their fates irrevocably intertwined. They're pieces on a board, being orchestrated by someone… or something. The voices that Serefin hears in the darkness, the ones that Nadya believes are her gods, the ones that Malachiasz is desperate to meet—those voices want a stake in the world, and they refuse to stay quiet any longer.
One of the first adjectives that comes to mind with this sequel is: dark. This is a much darker installment, which I am here for. After the end of book one, Nadya is stuck at the palace she infiltrated and is missing Malachiasz, despite him running off to heavens knows where with all of that power.
The hardest part about reading books as they are released was that for the first third of the book, I was horribly confused. I couldn't wholly remember what went on in the first book, but I remembered parts. A tough part of a high fantasy with an intricate world like this is jumping back in after some time.
However, as the story progressed, I got really into it. Serefin is dealing with dark forces and there are some pretty gruesome scenes involving him. One in particular I had to kinda skim over quickly because it had to do with eyes and that leaves me super squeamish. Can I also say, I did not expect LGBTQ+ representation, but I loved it?! It was so natural and I'm really glad it was there.
Nadya is just as fierce as ever in this book. I really love her relationship with Malachiasz, even though you can't trust a word out of his mouth. She does some questionable things, but I guess that's just who she is.
My favorite part of this book was eldritch horror aspect. I find things that the mind cannot fathom both frustrating and fascinating. I'll admit that whenever I read something with eldritch horrors, I picture weird aliens from Rick & Morty.
I'm excited for the next book in this trilogy. I can't wait to see the dark elements come forward and how the characters handle them. Also, I need to know how it ends!
Overall, I gave this one 5 stars.