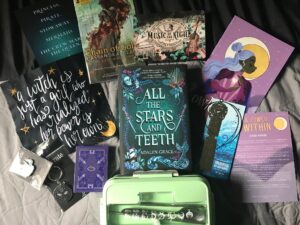 Oops! I am definitely behind on my OwlCrate unboxings.  I'm just going to jump straight into the February one, for which the theme was 'A Power Within'.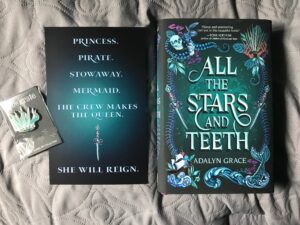 The book of the month in February was All the Stars and Teeth by Adalyn Grace.  I have since read this book and had a lot of fun with it.  When I opened the box, I was excited about the book but didn't really know all that much about it.  However, it turned out to be really good, and I'm glad I read it for my book club with my friends.
This months pin was designed by That's Lovely Dear.  The design is really pretty and I quite liked it.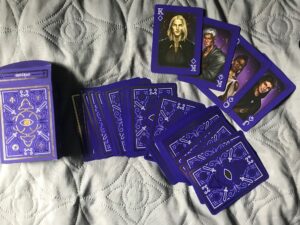 A highlight of this box was the deck of cards inspired by Throne of Glass by Sarah J. Maas.  The cards were designed by a variety of artists and I am absolutely obsessed with them.  The art is gorgeous and the edges are foiled and they're just so beautiful.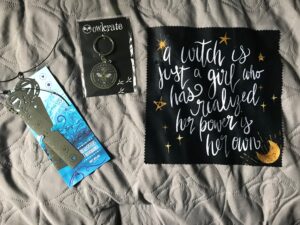 I haven't read The Magicians, but the design of this key chain was really nice.  I always like it when OwlCrate includes useful items and this box felt especially full of useful items.
Screen/Glasses Cleaning Cloth inspired by Wicked Saints by Leaf and Love and Nicole Deal.
This item was probably one of my most favourite items.  As a glasses wearer, I almost never have a cleaning cloth on me because I typically completely misplace them.  I loved the design and am happy to keep it in my desk to clean my glasses whenever needed.
I love The Witchlands books and these bookmarks are super well designed.  I love that they're bff bookmarks; it was a really sweet touch.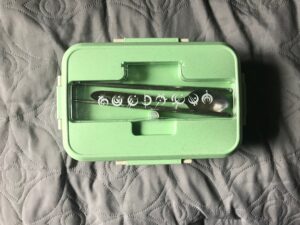 While I haven't read Mistborn, I really enjoyed the practicality of this item.  It's got a cute design, and some utensils.  I'm not sure if it's dishwasher friendly (I assume not), but that's pretty much the only thing that would make this item better. I haven't used it yet, but I'm excited to eventually test it out.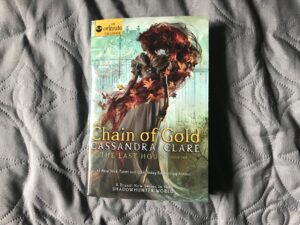 The last item in the February OwlCrate was a teaser for Chain of Gold by Cassandra Clare.  I like the idea of samplers, but I don't usually read them to be honest.
Overall, this was one of my favourite OwlCrates.  It had a ton of really good items, and I'm really pleased with it.  What was your favourite item?