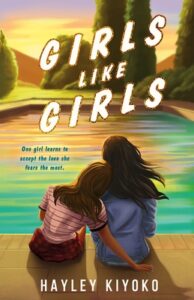 **Disclaimer: I received a free advanced readers copy of Girls Like Girls by Hayley Kiyoko through NetGalley in exchange for an honest review.  Thank you to NetGalley and the publishers for this opportunity.
Girls Like Girls by Hayley Kiyoko is a young adult coming of age novel about a girl named Coley who moves in with her estranged father after her mother dies.  In her new town, she meets a girl named Sonya and they find themselves drawn together.  The novel is set to be published on May 30th, 2023.  I rated it 5 stars on Goodreads.
Here's the summary from Goodreads:
Trailblazing pop star, actor, and director, Hayley Kiyoko debuts her first novel, a coming-of-age romance based on her breakthrough hit song and viral video, GIRLS LIKE GIRLS.
It's summertime and 17-year-old Coley has found herself alone, again. Forced to move to rural Oregon after just losing her mother, she is in no position to risk her already fragile heart. But when she meets Sonya, the attraction is immediate.
Coley worries she isn't worthy of love. Up until now, everyone she's loved has left her. And Sonya's never been with a girl before. What if she's too afraid to show up for Coley? What if by opening her heart, Coley's risking it all?
They both realize that when things are pushed down, and feelings are forced to shrivel away, Coley and Sonya will be the ones to shrink. It's not until they accept the love they fear and deserve most, that suddenly the song makes sense.
Based on the billboard-charting smash hit song and viral music video GIRLS LIKE GIRLS, Hayley Kiyoko's debut novel is about embracing your truth and realizing we are all worthy of being loved back.
I fully admit that I requested this because I really loved the song and music video, and I was curious about what it would be like in novel form.  I was also curious to see what Hayley Kiyoko would be like as a writer, and I was not disappointed.  I absolutely loved this book.
I really enjoyed all the layers of the novel.  It dealt with these two girls coming to terms with their sexualities but it was more than that.  It was about Coley coming to understand that she deserves love and that she deserves to be treated well, and I really enjoyed reading about her growth and development over the course of the novel.  She was a really interesting character, and I really did feel for her as she made her every day choices.
I found the dynamic between Coley and Sonya interesting as well.  There were definitely some questionable moments but it was understandable where the toxicity in their dynamic might have come from, and I definitely think that they had more growing to do by the end of the novel but I felt good about where things were left.
I also enjoyed the nostalgia of the vibes of being in high school in 2006.  There were aspects that were very relatable to me, like going home to instant message your friends though I used MSN not AIM like the characters in this book.  I can't say a lot of the rest of it was relatable to me, but I enjoyed the novelty of those parts.
The side characters were interesting as well, though some could have used more development.  I wish we had gotten to see a little bit more of Sonya's friends because some of them seemed to have a lot of potential and I wanted to learn more about them.
The story was well constructed, and I highly recommend that you check it out when it publishes in May.