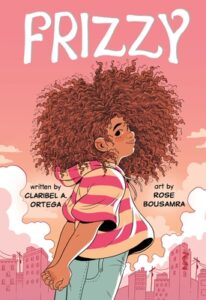 **Disclaimer: I recieved a free eARC of Frizzy by Claribel A. Ortega through NetGalley in exchange for an honest review.  Thank you to NetGalley and the publishers for this opportunity.
Frizzy by Claribel A. Ortega is a middle grade graphic novel about a young girl who is learning to come to terms with her hair and the outside perceptions of it.  I rated it four stars on Goodreads.  It is set to be published on October 18th, 2022.
Here's the summary from Goodreads:
A middle grade graphic novel about Marlene, a young girl who stops straightening her hair and embraces her natural curls.
Marlene loves three things: books, her cool Tía Ruby and hanging out with her best friend Camila. But according to her mother, Paola, the only thing she needs to focus on is school and "growing up." That means straightening her hair every weekend so she could have "presentable", "good hair".
But Marlene hates being in the salon and doesn't understand why her curls are not considered pretty by those around her. With a few hiccups, a dash of embarrassment, and the much-needed help of Camila and Tia Ruby—she slowly starts a journey to learn to appreciate and proudly wear her curly hair.
This graphic novel was absolutely adorable in the styling.  I loved the art and the colours.  It was so bright and well designed.  The story came across clearly and was very well illustrated.  I loved the design of each of the characters because it really helped their personality come through and to express who they were as a character.  The colours worked really well, and the story was able to come across quite vividly.
The storyline itself was quite moving.  I think most people would be able to relate to the themes that are being conveyed if they can't relate to the specific issue presented in the "good hair" vs not aspects of the storyline.  Marlene's lived experience was not the same as what I lived through, but I still felt quite emphathetic towards her and wishing that people would take more time to listen to her and to support what she needed.  There were a couple of points that I found myself tearing up because I just really felt for her and I really appreciated that the author and illustrator were able to evoke such intense feelings in me.
It's a really lovely story overall, and I genuinely recommend it.  It didn't completely blow me out of the water like I need for a five star, but it was really, really well done and I appreciate how good it was.  You should definitely check it out when it publishes in October.