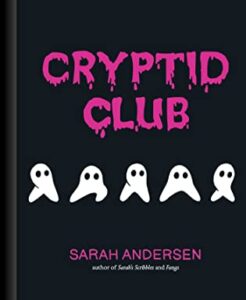 **Disclaimer: I recieved a free early access copy of Cryptid Club by Sarah Anderson through NetGalley in exchange for an honest review.  Thank you to NetGalley and the publisher for this opportunity.
Cryptid Club by Sarah Anderson is a collection of comics about various cryptids interacting in humorous situations.  It is set to be published on September 20th, 2022.  I rated it 4 stars on Goodreads.
Here's the summary from Goodreads:
The latest from New York Times bestselling, Goodread's Choice Award-winning, Eisner Award-nominated and Ringo Award-winning author Sarah Andersen is a delightful peek into the secret social lives of some of the world's most fascinating, monstrous, and mysterious creatures.
Do you hate social gatherings? Dodge cameras? Enjoy staying up just a little too late at night? You might have more in common with your local cryptid than you think! Enter the world of Cryptid Club, a look inside the adventures of elusive creatures ranging from Mothman to the Loch Ness Monster. This humorous new series celebrates the unique qualities that make cryptids so desperately sought after by mankind (to no avail). After all, it's what makes us different that also makes us beautiful.
This was a super cute collection of comics.  It reminded me of Strange Planet in that the panels didn't necessarily relate to eachother, but they did have similar characters going through the whole course of the book.
I really enjoyed the art style. Each cryptid had a good design, and it was clear who they were.  The panel design was also really good.  She clearly put a lot of effort into her design thought.
There was a lot of good humour in the collection.  She made some really good jokes between the different cryptids and i found myself laughing aloud quite a bit.  They are decently relatable as characters despite being fictional beasts.  I also really liked how at the end she had a small compendium of all the cryptids featured in the book because it helped me to learn about the different cryptids that I wasn't familiar with.
If you like Strange Planet, then I definitely suggest you read this collection when it comes out in September.