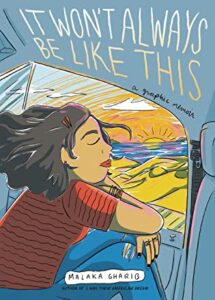 **Disclaimer: I received a free advanced readers copy of It Won't Always Be Like This by Malaka Gharib through NetGalley in exchange for an honest review.  Thank you to NetGalley and the publishers for this opportunity.
It Won't Always Be Like This by Malaka Gharib is a non-fiction graphic novel memoir about the life of the author as she grew up visiting her father in Egypt during her summer vacations.  It is set to be published on September 20th, 2022.  I rated it 4 stars on Goodreads.
Here's the summary from Goodreads:
An intimate graphic memoir about an American girl growing up with her Egyptian father's new family, forging unexpected bonds and navigating adolescence in an unfamiliar country–from the award-winning author of I Was Their American Dream.
It's hard enough to figure out boys, beauty, and being cool when you're young, but even harder when you're in a country where you don't understand the language, culture, or religion.
Nine-year-old Malaka Gharib arrives in Egypt for her annual summer vacation abroad and assumes it'll be just like every other vacation she's spent at her dad's place in Cairo. But her father shares news that changes everything: He has remarried. Over the next fifteen years, as she visits her father's growing family summer after summer, Malaka must reevaluate her place in his life. All that on top of maintaining her coolness!
Malaka doesn't feel like she fits in when she visits her dad–she sticks out in Egypt and doesn't look anything like her fair-haired half siblings. But she adapts. She learns that Nirvana isn't as cool as Nancy Ajram, that there's nothing better than a Fanta and a melon-mint hookah, that the desert is most beautiful at dawn, and that her new stepmother, Hala, isn't so different from Malaka herself.
It Won't Always Be Like This is a touching time capsule of Gharib's childhood memories–each summer a fleeting moment in time–and a powerful reflection on identity, relationships, values, family, and what happens when it all collides.
I have really been enjoying graphic novel memoirs lately, and I found this one really interesting.  It was a different perspective from many of the others I have read.  It was interesting to read about a young girl growing up part of the year in Egypt and traversing two different worlds.
The art style in this graphic novel wasn't really my favourite.  The character designs were clear, but I prefer a slightly more realistic style.  However, the colours were lovely, and the overall design of the panels and the graphic novel was quite nice.
I enjoyed reading about Malaka's life.  She had a hard time adjusting to life in Egypt and how different it was from America.  She also struggled to adjust to the fact that her father was not going to return to the United States even though she had always expected him to.  She also had to learn to accept her new family as they came along.  It's a lot for any young woman to deal with.  It was fascinating to watch her grow and learn to understand her stepmother and why she was the way she was.
Overall, the memoir was well illustrated and depicted.  If you like memoirs and graphic novels, then I definitely suggest that you check this one out when it publishes.