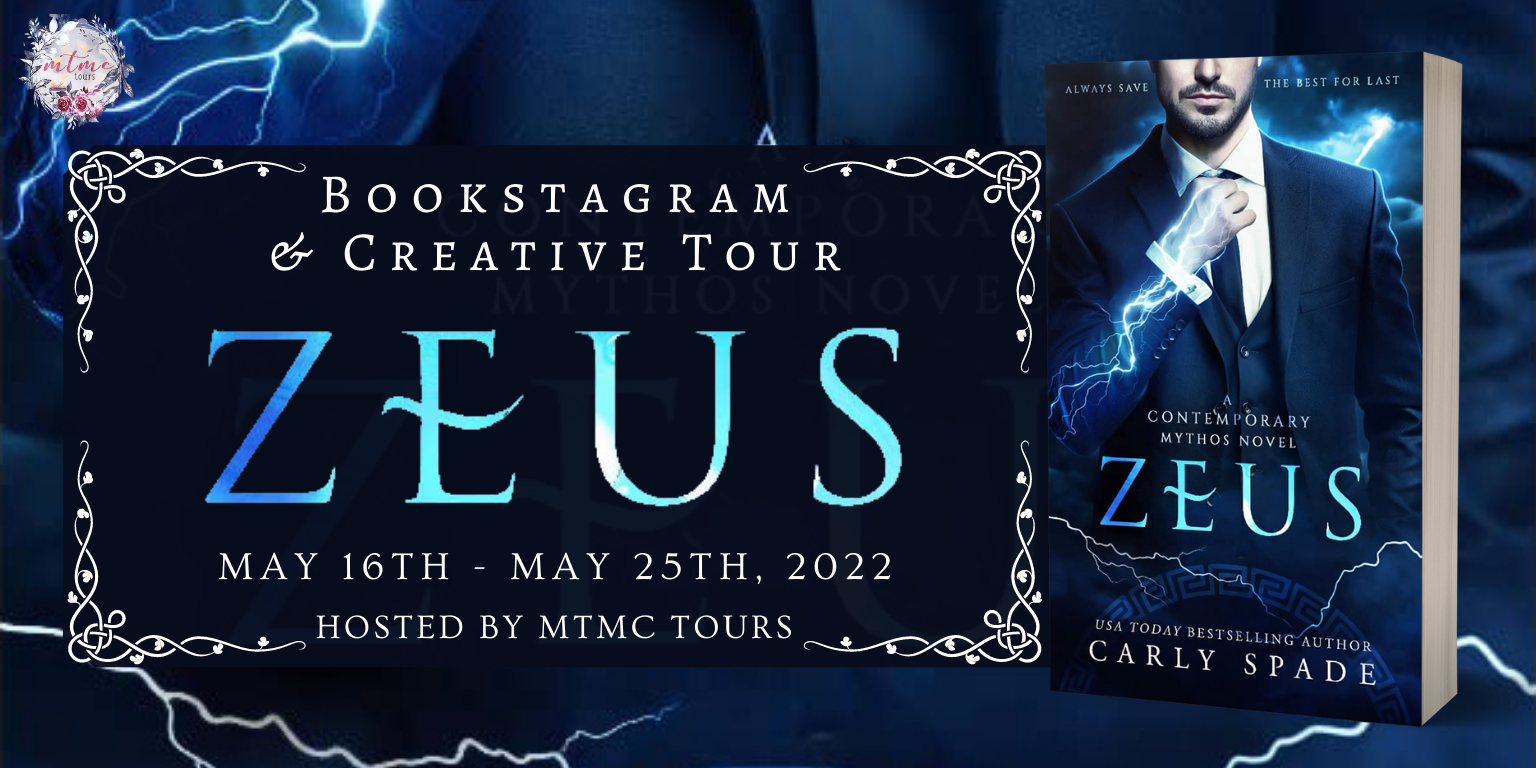 Hello everyone! I'm very pleased to be the first stop on the Creative Blog Tour for Zeus by Carly Spade hosted by MTMC Tours! This is the sixth book in the Contemporary Mythos series, an Adult Mythology/Contemporary Romance published on April 25, 2022!
Title: Zeus
Series: Contemporary Mythos #6
Author: Carly Spade
Publication Date: April 25, 2022
Genres: Adult, Contemporary, Fantasy Romance, Greek Mythology
Pages: 224
Format: eBook, Paperback
Purchase a copy: Amazon | Barnes & Noble | Book Depository| Blackwell's
Add on Goodreads!

A god-king disguised as a criminal defense lawyer…

Zeus/Zane, King of the Greek gods, holds the
world in his palm in both his mortal and godly form… until Hera leaves him, forcing him to uphold Gaea's clause: There must always be a Queen, or he loses his title and part of his power along with it. Time is short. Too bad the one woman he has his sights on wants nothing to do with him. Or does she?

An empath criminal prosecutor…

There's nothing Keira Bazin dislikes more than defense lawyers. So when she discovers Zane Vronti, one of New York' s finest, has been brought in on her newest murder case, it's anything but good news. Tensions flare as the two immediately butt heads, but there's something about Zane she can't put her finger on. His emotions are the strongest she's ever felt–borderline overwhelming. Power. Lust. Command. Can she fight her growing attraction for him? Does she want to?

**This is the LAST book in the Contemporary Mythos series. Though all can be read as a stand alone, there are Easter Eggs for those that read in order as books intersect.**
While I don't normally fan-cast characters, we just finished (and are anxiously awaiting the next season) of Apple+ TV's Ted Lasso, and I couldn't help but be reminded of Zeus/Keira with Roy Kent & Keeley Jones!
I loved this book so so much! It was extremely fun and a really engaging read. I read it within a day. Zeus and Keira's chemistry was electrifying (both literally AND figuratively) and I loved seeing the growth between them both.
While Zeus is not depicted as the best of gods (because let's face it, he really isn't), I super loved him in this book and couldn't help but root for him in the end. Carly Spade, I'm not sure if I should love or hate you for that 😂 All joking aside, if you're looking for a passionate and fun read, this is definitely it! I gave it 5 stars!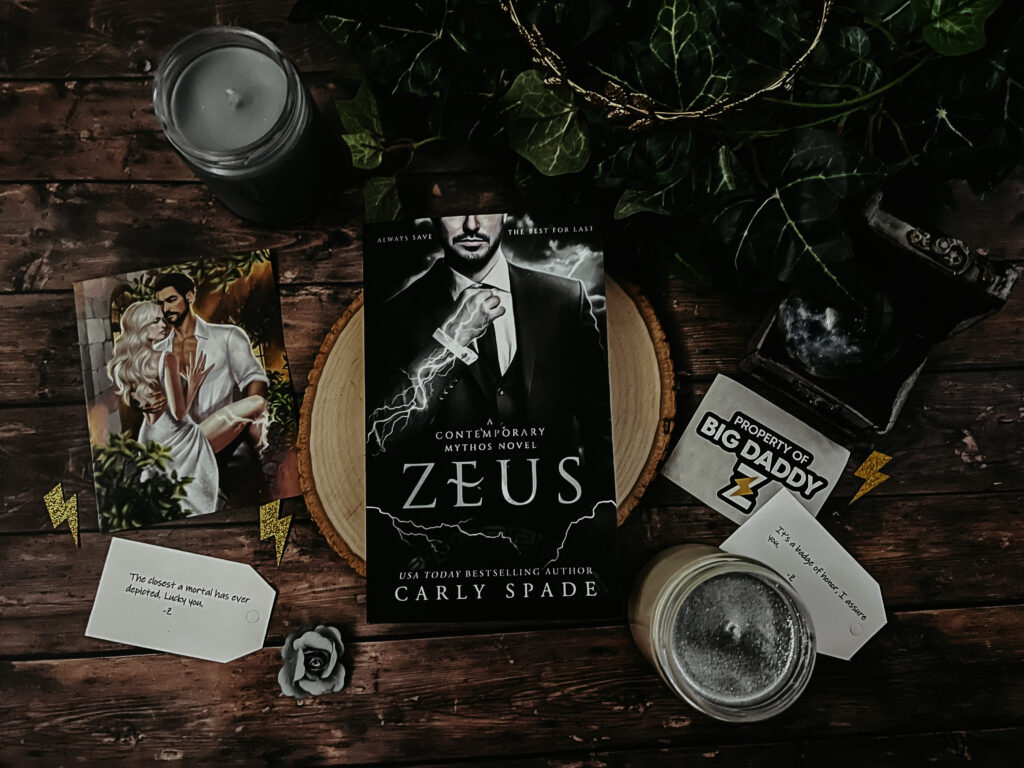 INTL Tour-wide Instagram Giveaway!
Head over to my Instagram account to enter the tour giveaway where one reader will win a signed Zeus paperback and swag. If International, the book will be sent via Book Depository and First Class mail art print, signed bookplate, and bookmark.
Ends on May 28th, 2022. Winners will be announced on @mtmctours' Instagram account.
——-
Tour Schedule:
May 16
@thedevourerofwords – Bookstagram & Book Blog

May 17
@katiesreadingnow – Bookstagram

May 18
@elle.cheshire – Bookstagram & Book Blog

May 19
@jenniaahava – Bookstagram

May 20
@pavlinamich – Bookstagram & Book Blog

May 21
@mysocalledliterarylife – Bookstagram

May 22
@happyheartlifestyle – Bookstagram & Booktok
May 23
@the_bookaddict – Bookstagram

May 24
@book_withquotes – Bookstagram & Book Blog

May 25
@jl_books – Bookstagram
About Carly Spade
An adult romance writer who has been writing since she could pick up a pencil. After the insanity of obtaining a bachelor's and master's degree in cybersecurity, creating worlds to escape to still ate at her very soul. She started writing FanFiction (which can still be found if you scour the internet 😉 ), and soon felt the need to get her original ideas on paper. And so the adventure began.
She lives in Colorado with her husband and two fur babies, and revels in an enemies to lovers trope with a slow burn.
Website | Twitter | Goodreads | Instagram
Hosted by: