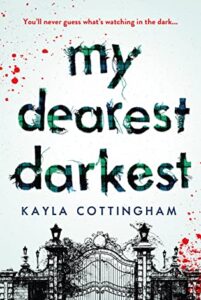 **Disclaimer: I received a free eARC of My Dearest Darkest by Kayla Cottingham through NetGalley in exchange for an honest review.  Thank you to NetGalley and the publishers for this opportunity.
My Dearest Darkest by Kayla Cottingham is a young adult horror novel about two teenage girls who get caught up with a mysterious figure who offers to grant them their deepest wishes in exchange for a favour.  It is well written and quite twisty.  It was published on March 29th, 2022.  I rated it four stars on Goodreads.
Here's the summary from Goodreads:
WILDER GIRLS meets THE CRAFT in this Sapphic horror debut that asks: What price would you be willing to pay to achieve your deepest desires?
Finch Chamberlin is the newest transfer student to the ultra-competitive Ulalume Academy… but she's also not what she seems. Months before school started, Finch and her parents got into an accident that should have left her dead at the bottom of a river. But something monstrous, and ancient, and terrifying, wouldn't let her drown. Finch doesn't know why she woke up after her heart stopped, but since dying she's felt a constant pull from the school and the surrounding town of Rainwater, like something on the island is calling to her.
Selena St. Clair sees right through Finch, and she knows something is seriously wrong with her. But despite Selena's suspicion, she feels drawn to Finch and has a sinking feeling that from now on the two will be inexplicably linked to one another.
One night Finch, Selena, and her friends accidentally summon a carnivorous creature of immense power in the depths of the school. It promises to grant every desire the girls have kept locked away in their insecure hearts―beauty, power, adoration―in exchange for a price: human body parts. But as the cost of their wanting becomes more deadly, Finch and Selena must learn to work together to stop the horror they unleashed, before it consumes the entire island.
I found myself drawn to My Dearest Darkest because of the cover initially.   It caught my eye when I was scrolling NetGalley.  It took me a while to read it, but I've been pretty much a mood reader lately simply because my attention span feels like it keeps flitting back and forth between things.   This book did manage to capture my attention.
I liked the way it introduced us to the characters and set us in a place where our two protagonists weren't going to be on the best of terms.  I like to read about dynamics between characters and seeing how those dynamics change as the story progresses.  The dyanmic between Finch and Selena was perfect for this.  They went from enemies to friends to lovers and it was fantastic.   I also enjoyed the other complicated dynamics between the other characters in the story.  It depicted different types of friendships, both good and bad, and I found that really intriguing.
I also really enjoyed the storyline.  It was very eerie and mysterious.  The mysterious entity that can grant favours isn't. something I've read a whole lot of, but I really enjoyed the way that story played out.  It kept me really interested in the story and what was going to happen next.  I also like the combination of supernatural events mixed into what felt very much like our world.
The writing was really good and descriptive.  I was able to picture the events in my head, and the story really seemed to come to life.
If you were at all intrigued by the summary of the book, I think you should definitely check out this story.