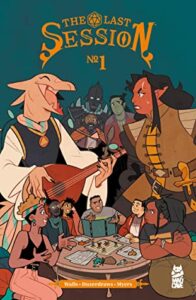 **Disclaimer: I recieved a free eARC of The Last Session by Jasmine Wells through NetGalley in exchange for an honest review.  Thank you to NetGalley and the publishers for this opportunity.
The Last Session by Jasmine Walls is a graphic novel about a group of friends who were members of a GSA group but then became what is essentially a Dungeons & Dragons campaign, though it's called Dice & Deathtraps in the book.  The novel is set to publish on March 31st, 2022.  I rated it four stars on Goodreads.
Here's the summary from Goodreads:
Roll for initiative!
Jay, Lana, Drew, Walter, and Shen have played Dice & Deathtraps together since high school. Now, on the verge of graduating college and scattering, they've decided to finally complete their unfinished first campaign. But when Jay's partner Cassandra joins as a new player, Lana's afraid the party won't ever finish their quest…
Thanks to my fiance, I've had a reasonable interest in Dungeons & Dragons.  He's a dungeon master and has run a campaign that I've been involved with, and although the campaign fizzled out, I still had a lot of fun and it's left me with interest to play and interest in media around it.  That's why I requested to read this book.
This was a super cute story.  I liked the characters and how they all had their strengths and flaws and how they interacted with each other.  It was interesting to see the development of their characters from high school to where they are at as young adults in college/university.  I enjoyed seeing them navigate the more complicated dynamics of adult relationships.
I also really enjoyed the structure of this story.  We got to spend some time with the characters in the past when they were in highschool, but we also got to see them as young adults.  I also really enjoyed that we got to see snippets of the campaign that they were playing.  It really made me want to play D&D again.
The art style of this book was really well done.  I liked the design for each of the characters, including the D&D characters they were playing.   It allowed me to get swept away in the story.
Overall, I had a lot of fun reading this story and I highly recommend that you check it out!