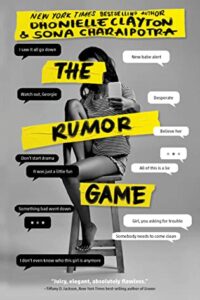 **Disclaimer: I received a free early access copy of The Rumor Game by Dhonielle Clayton and Sona Charaipotra through NetGalley in exchange for an honest review.  Thank you to NetGalley and the publisher for this opportunity.
The Rumor Game by Dhonielle Clayton and Sona Charaipotra is a young adult contemporary novel.  It features the perspectives of three teenage girls who attend a prestigious private school in the United States.  Each girl is dealing with life and relationship issues while also dealing with the rumour mill at their school.  It is set to be published on March 1st, 2022.  I rated it three stars on GoodReads.
Here's the summary from Goodreads:
All it takes is one spark to start a blaze.
At Foxham Prep, a posh private school for the children of DC's elite, a single rumor has the power to ruin a life.
Nobody knows that better than Bryn. She used to have it all—the perfect boyfriend, a bright future in politics, and even popularity, thanks to her best friend, cheer captain Cora. Then one mistake sparked a scandal that burned it all to the ground.
Now it's the start of a new school year and the spotlight has shifted: It's geeky Georgie, newly hot after a summer makeover, whose name is on everyone's lips. When a rumor ignites, Georgie rockets up the school's social hierarchy, pitting her and Cora against each other. It grants her Foxham stardom . . . but it also makes her a target.
As the rumors grow and morph, blazing like wildfire through the school's social media, all three girls' lives begin to unravel. But one person close to the drama has the power to stop the gossip in its tracks. The question is—do they even want to?
From Dhonielle Clayton and Sona Charaipotra, authors of the Tiny Pretty Things duology (now a Netflix series), comes the edge-of-your-seat social thriller everyone will be talking about.
This novel is perfect for you if you love a twisty, angsty young adult novel.  I sometimes absolutely love that vibe, but this one just didn't work for me.  I still had a good time reading it, but it wasn't my favourite thing that I read this year.  I think that more has to do with the storyline of it than anything else.  This particular brand of drama wasn't my favourite.
I liked the characters well enough.  I didn't love the choices they made, but I could understand why the choices were made.  It's a complicated chain of events that they got themselves into and I wish that maybe things had gone a little bit differently.  I think Cora was probably my favourite of the three.  In general, I did feel for each of them because they all were struggling with things that normal teenagers struggle with and I wanted them to be okay.
The story had good tension, and there were good twists and turns that I really wasn't expecting.  I liked the summary of rumours between chapters and the comments from other characters in the story so we could see their takes on things.  It made the story feel a little bit more well rounded.
This novel will definitely have its audience, it just wasn't me.  If you were intrigued by the story, then I definitely think you should check it.  I still had fun reading it, but I'm not the target audience.