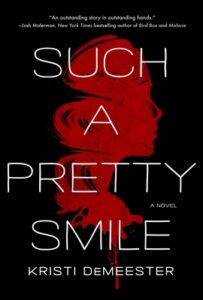 **Disclaimer: I received a free early access copy of Such a Pretty Smile by Kristi DeMeester through NetGalley in exchange for an honest review.  Thank you to NetGalley and the publishers for this opportunity.
Such a Pretty Smile by Kristi DeMeester is a horror/mystery-thriller novel that takes places over two timelines.  You get the perspective of a mother and her daughter as they deal with some pretty gruesome events.  It is set to be published on January 18th, 2022.  I rated it five stars on GoodReads.
Here's the summary from GoodReads:
A biting novel from an electrifying new voice, Such a Pretty Smile is a heart-stopping tour-de-force about powerful women, angry men, and all the ways in which girls fight against the forces that try to silence them.
There's something out there that's killing. Known only as The Cur, he leaves no traces, save for the torn bodies of girls, on the verge of becoming women, who are known as trouble-makers; those who refuse to conform, to know their place. Girls who don't know when to shut up.
2019: Thirteen-year-old Lila Sawyer has secrets she can't share with anyone. Not the school psychologist she's seeing. Not her father, who has a new wife, and a new baby. And not her mother—the infamous Caroline Sawyer, a unique artist whose eerie sculptures, made from bent twigs and crimped leaves, have made her a local celebrity. But soon Lila feels haunted from within, terrorized by a delicious evil that shows her how to find her voice—until she is punished for using it.
2004: Caroline Sawyer hears dogs everywhere. Snarling, barking, teeth snapping that no one else seems to notice. At first, she blames the phantom sounds on her insomnia and her acute stress in caring for her ailing father. But then the delusions begin to take shape—both in her waking hours, and in the violent, visceral sculptures she creates while in a trance-like state. Her fiancé is convinced she needs help. Her new psychiatrist waves her "problem" away with pills. But Caroline's past is a dark cellar, filled with repressed memories and a lurking horror that the men around her can't understand.
As past demons become a present threat, both Caroline and Lila must chase the source of this unrelenting, oppressive power to its malignant core. Brilliantly paced, unsettling to the bone, and unapologetically fierce, Such a Pretty Smile is a powerful allegory for what it can mean to be a woman, and an untamed rallying cry for anyone ever told to sit down, shut up, and smile pretty.
This book was completely unexpected for me.  The summary, as you can see, is pretty thorough and so I thought I had a pretty good idea of what the book was going to be about.  And the book was about that, but there was so much more in this book that completely caught me off guard.
I found both of our main characters really interesting and compelling in different ways.
It was really interesting to read about Lila at thirteen and how she struggled with school and friendships and all those things that are so complicated at thirteen.  Her story was absolutely heartbreaking and really well developed.
I also really enjoyed reading about Caroline and what happened to her when she was younger.  It was interesting reading about her relationship with Lila's father and how wrong it was for her.  I kept getting so mad at Lila's father as a character because he just wasn't supportive and it was hard to read.
The story was gritty and real, though it definitely had these fantastical elements.  I found myself compelled to keep turning pages because I just really wanted to know what was going on with the cur and how it was possible for a serial killer to keep coming back.  I definitely enjoyed the way it played out, and though I was heartbroken for the characters, it was definitely the ending that made the most sense.
If you are at all intrigued by the premise, I really suggest that you check it out.