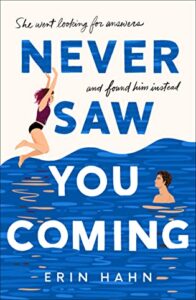 **Disclaimer: I received a free early access copy of Never Saw You Coming by Erin Hahn through NetGalley in exchange for an honest review.  Thank you to NetGalley and the publisher for this opportunity.
Never Saw You Coming by Erin Hahn is an upper YA contemporary novel about a girl named Meg and a boy named Micah.  They both have complicated relationships with the church and with faith.  However, they come together in a wonderful way.  The story is set to be published on September 7th, 2021.  I rated it 5 stars on Goodreads.
Here's the summary from Goodreads:
Raised by conservative parents, 18-year-old Meg Hennessey just found out her entire childhood was a lie. Instead of taking a gap year before college to find herself, she ends up traveling north to meet what's left of the family she never knew existed.
While there, she meets Micah Allen, a former pastor's kid whose dad ended up in prison, leaving Micah with his own complicated relationship about the church. The clock is ticking on Pastor Allen's probation hearing and Micah, now 19, feels the pressure to forgive – even when he can't possibly forget.
As Meg and Micah grow closer, they are confronted with the heavy flutterings of first love and all the complications it brings. Together, they must navigate the sometimes-painful process of cutting ties with childhood beliefs as they build toward something truer and straight from the heart.
In Erin Hahn's Never Saw You Coming, sometimes it takes a leap of faith to find yourself. 
Erin Hahn has become an autobuy author for me, and I have loved every single book she has come out with.  I have reviews of her debut and sophomore novels up on the blog.  She writes realistic teenagers and deep conflicts that feel real and plausible.  Her stories are wonderfully real.  Never Saw You Coming was no exception to that point.
I have to admit that I'm not a religious person, so I didn't personally relate to that aspects of the story.  However, I did feel that it was handled in a mature and respectful way.   She addressed real issues in the church and it was nice to see them addressed in the way that they were.  Additionally, I appreciated the way that she talked about how it's totally fine to have different kinds of faith.  You can still have your beliefs about God, but that doesn't mean that you have to go to church and celebrate/revere Him in one specific way. There are different ways to be spiritual, and I think that's important to acknowledge.
Another thing that I really liked was the dynamic between Meg and Micah.  I wouldn't say that either was what one might expect in a partner for the other one at a first glance, but I genuinely feel like they were very well suited for each other.  They brought out the best in each other, which I really loved.  They were good at communicating and they helped each other out.  I also appreciated how this book didn't necessarily fall into that typical romance plot of having lots of relationship drama that's completely unnecessary.  There's nothing wrong with books that do of course, and I have enjoyed books that have that as a part of their plot, but I loved that they were together and a functioning couple (with a few little snags) for much of the book.  Most of the conflict came from other areas, which felt different and nice.
I also like how this novel was a bit of a companion to her second novel, More Than Maybe.  Meg is Vada's, the protagonist of More Than Maybe, best friend and so it was nice to see her blossom more and get her own storyline.  I also liked that we got an update on Vada and Luke and got to see them both a couple of times.  I just always like when authors make the worlds of their novels interconnected (partially because Tamora Pierce is one of my all time favourite authors).
I really enjoyed how much the characters grew of the course of the novel.  They really grew as people and came to understand a greater perspective outside of their own, but also I felt that they came to understand themselves even better.
Overall, the story was beautifully well written and I could talk about it all day.  I just genuinely loved this book and highly recommend that you check it out when it publishes in September.