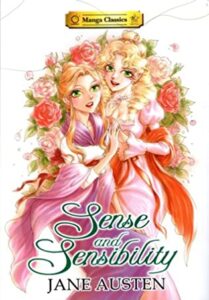 **Disclaimer: I received a free copy of Manga Classics: Sense and Sensibility by Stacy King through NetGalley in exchange for an honest review.  Thanks to NetGalley and the publishers for this opportunity.
Manga Classics: Sense and Sensibility by Stacy King is a manga adaptation of the classic novel Sense and Sensibility by Jane Austen.  I rated it four stars on Goodreads.  It was published on August 9, 2016.
Here's the summary from Goodreads:
Impulsive Marianne Dashwood and cautious Elinor are as different as two sisters could be, yet both are shattered by their father's sudden Death. Elinor's attachment to the reserved Edward Ferrars is torn asunder by family opposition and his own dark secret, while Marianne's brilliant romance with the dashing John Willoughby comes to a tumultuous end in a devastating public betrayal. Can the two sisters overcome these trials to find true, lasting happiness?
Jane Austen's beloved first novel, filled with romance, redemption and social critique, is brought to life for a modern audience in this gorgeous manga-style adaptation!
I've read a couple of other manga adaptations of classics and that was why I ended up requesting this one.  I've never read Sense and Sensibility, but I read Pride and Prejudice and enjoyed it so I wanted to check out other books by her.  However, I've had a rough time wanting to read classics so this seemed perfect.
I had a lot of fun reading this book.  It took me a minute to adjust to the manga style, but once I got the hang of it, the novel was quite readable.  The art was lovely and it was clear which character was which.  It was also very clear what was happening at any given point.  I know that seems like a silly thing to review, but when you don't have the text in front of you saying who said something, it helps to have good character design.
Story wise, I felt that it was a very good adaptation.  It made the story easy to understand and I had a lot of emotions while reading it.  I liked the general story line of the two different sisters and their different interests and priorities.  I will fully admit to tearing up at one point, which is not something I've ever done with a classic book.
If you find yourself daunted by classics and want an easy way to get into one, this is definitely a good way to do it.  I recommend that you check it out.