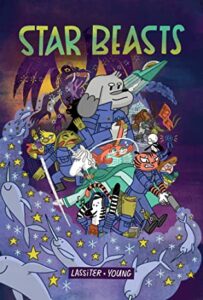 **Disclaimer: I received a free advanced reader's copy of Star Beasts by Stephanie Young through NetGalley in exchange for an honest review.  Thank you to NetGalley and the publishers for this opportunity.
Star Beasts by Stephanie Young is a children's/middle grade science fiction graphic novel.  It features a cast of animal characters whose task is to protect the Earth from dangerous interstellar threats.  It is set to be published on August 17th, 2021.  I rated it 4 stars on Goodreads.
Here is the summary from Goodreads:
A cosmic mix of laughs, loyalty, and adventure, Star Beasts is ideal for fans of Zootopia, Mouse Guard, and Tiny Titans. 
Wanna know the real reason Pluto isn't a planet anymore?
Bandit is a pup on Earth who leaves his family to join the secret order of the Star Beasts – cosmic creatures sworn to protect Earth and spread goodness throughout the universe. Only thing is, he's having trouble fitting in. But when powerful relics are suddenly stolen, the Star Beasts must band together to find the deadly galactic fossils before Pluto's evil emperor, Khaos Krill – he wants to build the Novataur, an ancient monster that could wipe out all of Earth's species!
Captain Bandit leads the crew on a kick-asteroid space race to collect all the relics. Flashtista, the warrior turtle, Clio, the goldfish historian, Karma, the healing tiger, Pep, the techie iguana, and the rest of Star Beasts risk their lives to learn that true family is never really lost and that protecting love is the greatest duty of all.
This is such a cute graphic novel.  I loved the premise of animals from Earth being recruited to help fight against interstellar threats.  Bandit, our protagonist, is a dog who had to leave his human family behind in order to help keep the world safe.  He's an interesting and enthusiastic character.  I really enjoyed all of the characters.  They all had their different strengths and weaknesses.
The setting was really well done and creative.  I liked all the different planets and how I didn't know what to expect when it came to the various areas that our heroes explored.  I liked the comparison of Earth and the other worlds.  Pluto was an interesting setting as well.  The different species from that planet was interesting, and their motivation for wanting to destroy the Earth made a lot of sense.
I loved the art in this graphic novel.  It was full colour and absolutely beautiful.  The animals were all very distinct, and I really was able to understand what was going on.
I felt suspense and excitement as I read the story.  I didn't know what was going to happen next and it really kept me guessing.  I enjoyed the twists.
Overall, I really enjoyed this book, and recommend that you check it out.