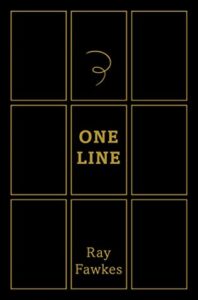 **Disclaimer: I received a free early access copy of One Line by Ray Fawkes in exchange for an honest review through NetGalley.  Thank you to NetGalley and the publishers for this opportunity.
One Line by Ray Fawkes is a graphic novel that follows 18 families through to the end of their line.  It is set to be published on July 20th, 2021.  I rated it 3 stars on Goodreads.
Here's the summary from Goodreads:
From Eisner Award nominee, Ray Fawkes, comes ONE LINE, the third book in the ambitious, intricately constructed One Soul series.
As One Soul followed eighteen people from birth until death, showcasing their common joys and pains as well as their unique experiences, One Line follows eighteen families through four centuries, showing how traditions, ethics, and prejudices are handed down from generation to generation. Some families will interact, some will join together, some will remain alone. Some will persist, and some will die out.
The summary is what drew me into this story, and I found myself really intrigued.  I wanted to know how a graphic novel would be able to tell that many stories in such a condensed format.  It's sometimes tricky to tell even one story, so 18 seemed like an impressive amount.
I will say that I was impressed with the story and the way it was told.  I really liked the art and how there were just a few words included on each page.  I also really liked the way that there were parallels in some of the stories and how lines repeated between stories and how sometimes they were changed slightly by the story's context but overall went together.
However, I will admit that I found it confusing.  Initially it was hard to tell which story was which and it something that would probably improve upon several re-reads.  It was hard to keep track between generations as well, which just added to my confusion.
Overall, I'd definitely say it's worth checking out, but I just didn't love it as much as I wanted to.