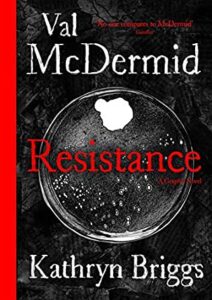 **Disclaimer: I received a free early access copy of Resistance: A Graphic Novel by Val McDermid through NetGalley in exchange for an honest review.  Thank you to the publishers and NetGalley for this opportunity.
Resistance: A Graphic Novel by Val McDermid is a science fiction/horror graphic novel about the possibility of a bacterial pandemic where the bacteria is resistant to antibiotics.  The graphic novel published on May 20th, 2021.  I rated it four stars on Goodreads.
Here's the summary from Goodreads:
A gritty, dark tale of infectious disease gone wrong – the timely graphic novel from Sunday Times bestselling author Val McDermid
It's the summer solstice weekend, and 150,000 people descend on a farm in the northeast of England for an open-air music festival. At first, a spot of rain seems to be the only thing dampening the fun – until a mystery bug appears. Before long, the illness is spreading at an electrifying speed and seems resistant to all antibiotics. Can journalist Zoe Meadows track the outbreak to its source, and will a cure be found before the disease becomes a pandemic?
A heart-racing thriller, Resistance imagines a nightmare pandemic that seems only too credible in the wake of COVID-19. Number one bestseller and queen of crime Val McDermid has teamed up with illustrator Kathryn Briggs to create a masterful graphic novel.
I really enjoyed this book, however, if you're not interested in reading about a pandemic after living through one, I would highly recommend that you don't check this particular book out.  It was very well written, but it could be a sensitive topic for a lot of people, and I just want you to be aware of that before hand.  It was a bit of a rough read.
This was a well structured story.  I liked how we saw things from the main character's Zoe's perspective.  However, I also liked that we got snippets here and there from different characters' views.  We got to see from scientists, and victims of the disease.  It was really well done in how certain details were revealed.  I felt that the main characters we encountered were well developed.  There were some more one dimensional characters, but they were needed to be that way.  You can't have everyone be completely well developed.  There just isn't time for that.
The art was nice.  It felt gritty in a way that really suited the story.  I liked all the little details that were layered into the backgrounds.  There was some really good imagery and all the characters felt unique and distinctive.  It was easy to tell who was who and who was going on.
There was a good pacing throughout.  It kept me gripped and I needed to know what was going to happen and how things were going to play out.  I was metaphorically on the edge of my seat because I just had to know the ending.  I ended up reading this in one sitting.
Overall, it was a really well done book and you should check it out if you don't mind reading about pandemics.