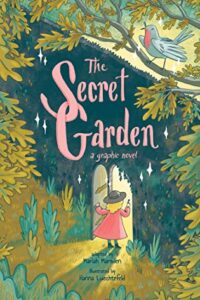 **Disclaimer: I received a free early access copy of The Secret Garden Graphic Novel by Mariah Marsden through NetGalley in exchange for an honest review.  Thank you to NetGalley and the publishers for this opportunity.
The Secret Garden Graphic Novel by Mariah Marsden and Hannah Luechtefeld is a graphic novel adaptation of the classic novel of the same name by Frances Hodgson Burnett.  It was published on June 15th, 2021.  I rated it four stars on Goodreads.
Here's the summary from Goodreads:
Green-growing secrets and magic await you at Misselthwaite Manor, now reimagined in this graphic novel adaptation of Frances Hodgson Burnett's tale.
Ten-year-old Mary Lennox arrives at a secluded estate on the Yorkshire moors with a scowl and a chip on her shoulder. First, there's Martha Sowerby: the too-cheery maid with bothersome questions who seems out of place in the dreary manor. Then there's the elusive Uncle Craven, Mary's only remaining family—whom she's not permitted to see. And finally, there are the mysteries that seem to haunt the run-down place: rumors of a lost garden with a tragic past, and a midnight wail that echoes across the moors at night. 
As Mary begins to explore this new world alongside her ragtag companions—a cocky robin redbreast, a sour-faced gardener, and a boy who can talk to animals—she learns that even the loneliest of hearts can grow roots in rocky soil.
The Secret Garden wasn't a story that I had strong nostalgic feelings for, but I wanted to see what might happen with a graphic novel adaptation of it. I have to say that I really enjoyed it.
The story worked really well as a graphic novel because it was nice to have the visuals that were going along with the story. When you're writing about a garden, it's nice to have actual images of the garden being talked about. I really like the art style and that it was full colour. It was very beautiful. I felt that the style matched with the story as well.
Story wise, it was one that I was vaguely familiar with. As mentioned I don't have strong memories about it, but I felt like I had a good understanding of what was going on and what the author had written about. I liked seeing the main characters grow through the events of the story.  They really showed development even though it wasn't very long.
Overall, it was a really good story and I recommend that you check it out.