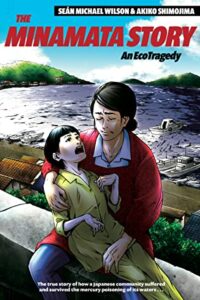 **Disclaimer: I received a free early access copy of The Minamata Story: An Ecotragedy by Sean Michael Wilson through NetGalley in exchange for an honest review.  Thank you to NetGalley and to the publishers for this opportunity.
The Minamata Story: An Ecotragedy by Sean Michael Wilson and Akiko Shimojima is a graphic novel that helps to bring light to real events.  It switches back and forth between the modern timeline and looking back on events that happened in the past.  It was published on June 15th, 2021.  I rated it three stars on Goodreads.
Here's the summary from Goodreads:
A powerful graphic novel/manga that tells the story of Minamata disease, a debilitating and sometimes fatal condition caused by the Chisso chemical factory's careless release of methylmercury into the waters of the coastal community of Minamata in southern Japan. First identified in 1956, it became a hot topic in Japan in the 1970s and 80s, growing into an iconic struggle between people versus corporations and government agencies.
The event is also the subject of the 2020 Andrew Levitas directed Johnny Depp film, Minamata.
This struggle is relevant today, not simply because many people are still living with the disease but also because, in this time of growing concern over the safety of our environment–viz. Flint, Michigan–Minamata gives us as a very moving example of such human-caused environmental disasters and what we can do about them.
The Minamata Story: An Ecotragedy was a short but very moving graphic novel. I hadn't really heard about what happened in Minamata so it was an educational story.
The art was well done, but it easily represented what the story was trying to get across. The fact that it was in black and white emphasized certain details.  The characters were expressive, and felt unique.
I liked that they used Tomi's university assignment as a vessel to help us learn about what happened. Tomi didn't know enough and so as he learned, we learned.  I also really enjoyed how he went to visit real people who were living with the disease.
I also really liked how at the end it detailed about the real people who inspired the characters in the story.  It's good to pay tribute to the people you drew inspiration from.
However, I will admit that it did feel a little rushed and I would have liked to see more development and expansion on the story to learn even more about it.
It was well done and was really interesting. I highly recommend that you check out the story!