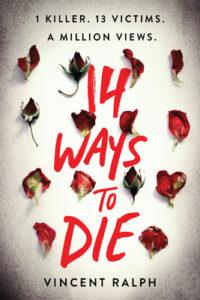 **Disclaimer: I received a free early access copy of 14 Ways to Die by Vincent Ralph through NetGalley in exchange for an honest review.  Thank you to NetGalley and the publishers for this opportunity.
14 Ways to Die by Vincent Ralph is a young adult mystery thriller.  It revolved around a girl named Jess who signs up for a reality television show where she will livestream her life in order to solve the mystery of who murdered her father.  It is set to publish on June 1st, 2021.  I rated it 4 stars on Goodreads.
Here's the summary from Goodreads:
A page-turning new YA thriller for the social media age, perfect for fans of A Good Girl's Guide to Murder and One Of Us Is Lying.
Ten years ago, Jess's mother was murdered by the Magpie Man.
She was the first of his victims but not the last.
Now Jess is the star of a YouTube reality series and she's using it to catch the killer once and for all.
The whole world is watching her every move.
And so is the Magpie Man.
This story definitely had an intriguing premise.  I liked the idea of a girl sacrificing her privacy to find out what happened to her mom.  I've read lots of YA mysteries, but I haven't quite encountered a story like that before.  It's definitely really interesting.
I really enjoyed this story.  Jess is a really interesting character.  She's not a traditionally likeable character but she is a sympathetic one.  She pushes boundaries but her motive is admirable.  It's easy to understand why exactly she wants to give up so much to find out the answers to something that changed the entire course of her life.  It's easy to understand why she does the things that she does.
I enjoyed the short chapters in this book.  It makes for a quick and easy read.  The story was well paced.  There was good tension and just enough to keep me guessing as the story continued.  I enjoyed the suspense.  The arc of the story was well done.  I really liked the way that there were a lot of red herrings along the way making me think that something had happened that wasn't actually the case.  I genuinely had no idea who the bad guy was going to turn out to be, but I was pleased with how it turned out.
The depiction of grief was really interesting in this book.  It felt realistic and showed the lingering after effects of a sudden horrible loss.  Jess and her father had two really interesting sides of that.  I really enjoyed that aspect.
The side characters were well ranged and interesting.
If you're at all intrigued by the premise, I definitely recommend that you check this book out.