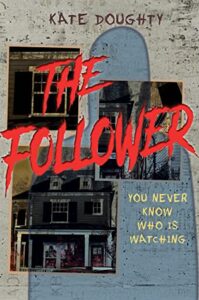 **Disclaimer: I received a free early access copy of The Follower by Kate Doughty through NetGalley in exchange for an honest review.  Thank you to the publishers and NetGalley for this opportunity.
The Follower by Kate Doughty is a young adult mystery thriller novel about a set of triplet social media influencers.  The Cole triplets move from house to house with their parents as they flip homes.  This new house is their last chance, but it seems that maybe they've bitten off more than they can chew.  The Follower is due to be published on March 23rd, 2021.  I rated it 5 stars on GoodReads.
Here's the summary from GoodReads:
A spine-tingling YA thriller, based on a still-unfolding true story
Instagram-famous triplets Cecily, Amber, and Rudy—the children of home renovation superstars—are ready for a perfect summer. They've just moved into the site of their parents' latest renovation project when they begin to receive chilling messages from someone called The Follower. It soon becomes clear that this anonymous threat is more than a simple Internet troll, and he can't wait to shatter the Cole family's perfect veneer and take back what's his. The Follower examines the implications of what it is to be watched in the era of social media fame—as well as the lies we tell and the lengths we'll go to uphold a perfect image, when our lives depend on it.
This was such an interesting book.  I didn't really know what to expect going into it, but I'm genuinely so glad that I read it.  It's been a long time since a book actually freaked me out, but this one did.  I was reading it before I went to sleep but I had to put it down several times because I was so freaked out by the concept and the potential of what was going to happen.
I loved that it was a multi-point a view story and that we got the perspective of each of the Cole triplets and got to see their view of the events.  Each triplet was well developed and I really appreciated how different they were and also how they related to each other.  They were understandable characters, and it was interesting to see from the perspective of the social media influencer rather than just seeing their posts.
I also really enjoyed the use of social media to start the terror for the triplets.  It was a good place to start to develop the fear, and it made me wait with baited breath for how the threats were going to come to fruition.  It really hammered home the lesson of be careful what you post, and I found it really intriguing how the culprit drew from the knowledge of what the triplets had posted online to torture the triplets for changing the house.
This book made me cringe as bad things happened.  Not in the way that they were cringeworthy and awkward, but in that they tended to really gross me out and I sometimes felt like I had to look away from what was going on.  The follower was a truly disturbed and it really made the book feel like the triplets' actions had consequences.
Overall, I highly enjoyed this book and I definitely recommend that you check it out if you're at all intrigued by the concept.  I really only have good things to say about this book.