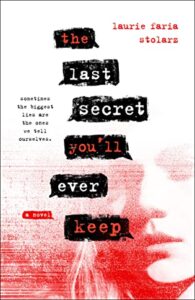 **Disclaimer: I recieved a free early access copy of The Last Secret You'll Ever Keep by Laurie Faria Stolarz through NetGalley in exchange for an honest review.  Thank you to them and the publisher for this opportunity.
The Last Secret You'll Ever Keep by Laurie Faria Stolarz is a YA mystery thriller about a girl who was kidnapped and held against her will, but unfortunately no one believes her.  It's the second book in the Jane Anonymous series.  It publishes on March 16th, 2021.  I rated it 4 stars on Goodreads.
Here's the summary from Goodreads:
Bestselling author Laurie Faria Stolarz returns with a thrilling novel where an eighteen-year-old girl's search for answers lands her in one of the most terrifying situations imaginable.
Four days…
Trapped in a well, surrounded by dirt, scratching at the walls trying to find a way out.
Four days of a thirst so strong, that when it finally rains, I drink as much as possible from the dripping walls, not even caring how much dirt comes with it.
Six months…
Since my escape. Since no one believed I was taken to begin with – from my own bed, after a party, when no one else was home…
Six months of trying to find answers and being told instead that I made the whole incident up.
One month…
Since I logged on to the Jane Anonymous site for the first time and found a community of survivors who listen without judgment, provide advice, and console each other when needed.
A month of chatting with a survivor whose story eerily mirrors my own: a girl who's been receiving triggering clues, just like me, and who could help me find the answers I'm searching for.
Three days…
Since she mysteriously disappears, and since I'm forced to ask the questions: will my chance to find out what happened to me vanish with her? And will I be next?
The plot of this one was what drew me to it, and I only found out it was a sequel/spin off after I had already been granted access to read it.  Fortunately, it was more of a spin off than a sequel and I felt that I didn't need to have read the first to understand the second.
The Last Secret You'll Ever Keep is a fascinating story.  I always enjoy an unreliable narrator, and our protagonist was well developed in that way.  I liked how she was depicted as she struggled with her PTSD and her grief.  I desperately felt for her as people didn't believe her and made her even question her memories.  It was a very heartbreaking story.
I really enjoyed how the story developed and how it kept me guessing.  I liked the structure of including flashbacks to introduce details of the protagonists backstory.  It was well written and really intriguing.  The twists kept me guessing and it was one of those books that I ended up reading in pretty much a single sitting.  I desperately needed to know what was going to happen and who had done this to her.
The ending was a pretty satisfying but it wasn't my favourite resolution.  I am really glad that things worked out for her and that she ended up with a good relationship with the people in her life.  Overall, I'd say that if you're at all interested in the premise of the book, you should definitely check it out when it publishes on March 16th.