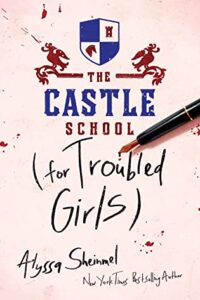 **Disclaimer: I received a free early access copy of The Castle School (for Troubled Girls) by Alyssa Sheinmel through NetGalley in exchange for an honest review.  Thank you to NetGalley and the publishers for this opportunity.
The Castle School (for Troubled Girls) by Alyssa Sheinmel is a hard hitting YA contemporary mystery novel.  It's about a girl named Moira whose parents ship her off to The Castle School after the loss of her best friend sends her into a downward spiral.  The Castle School (for Troubled Girls) publishes on March 2nd, 2021.  I gave it four stars on Goodreads.
Here's the summary from Goodreads:
When Moira Dreyfuss's parents announce that they're sending her to an all-girls boarding school deep in the Maine woods, Moira isn't fooled. She knows her parents are punishing her; she's been too much trouble since her best friend, Nathan, died―and for a while before that. At the Castle School, isolated from the rest of the world, Moira will be expected to pour her heart out to the odd headmaster, Dr. Prince. But she isn't interested in getting over Nathan's death or befriending her fellow students.
On her first night there, Moira hears distant music. On her second, she discovers the lock on her window is broken. On her third, she and her roommate venture outside…and learn that they're not so isolated after all. There's another, very different, Castle School nearby―this one filled with boys whose parents sent them away, too.
Moira is convinced that the Castle Schools and the doctors who run them are hiding something. But exploring the schools will force Moira to confront her overwhelming grief―and the real reasons her parents sent her away.
This isn't my first Alyssa Sheinmel.  I read and loved What Kind of Girl by her last year.  You can find my review of it here.  Ultimately, my love of that book was what drew me to The Castle School.  I loved how Alyssa Sheinmel constructed What Kind of Girl, and while I didn't love The Castle School as much as the first, I still ended up really enjoying it.
Moira is a fascinating character.  She's got a very interesting perspective, and it was really interesting to watch her develop over the course of the novel.  She was well developed and felt realistic.  The way she internalized her grief was very heartbreaking but beautifully done.
I didn't find the mystery part of this story that compelling.  The mysterious music and what was going on wasn't the most exciting part of the story and I found that the resolution to that line of build up wasn't the most exciting part.  I was actually a bit let down.  However, I did love how this story dealt with mental illness and the journeys that the characters went on over the course of it were the real star of the show.  I suppose without that mystery aspect the novel wouldn't have been published, so I understand the purpose of it.  And I will admit that it did keep me guessing.  For a good while I definitely thought this was some kind of secret fantasy novel, but that's on me for not reading the summary properly or paying enough attention.
The side characters in the story were well developed as well, and I genuinely felt like most of the characters showed growth over the course of the novel.  Even though we were focussed on Moira, we did get snippets of the other girls and where they started out to help us see the change in where they ended up.
I also really enjoyed the romance that developed over the course of the story.  It was a good amount of slow burn, and I appreciated how he was good to her and understood her perspective.  I also appreciated how she stood up for him.  They felt like a really well suited couple.
Overall, this is a well written and realistic story about how grief can effect us.  I highly recommend it that you check it out.