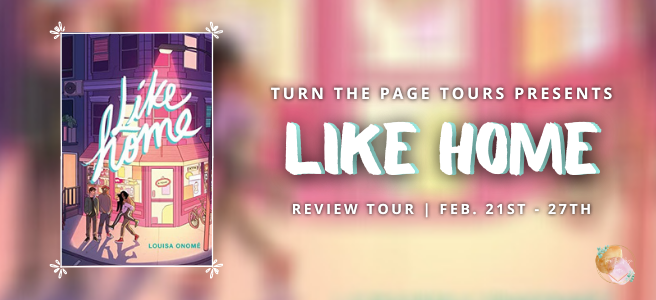 Hello friends! Today I am so happy to be participating in the blog tour for Like Home by Louisa Onomé, hosted by Turn the Page Tours! Like Home is a coming of age story about Nelo, her best friend Kate, and the neighborhood Nelo loves. Be sure to visit to full tour schedule.
TITLE: Like Home
AUTHOR: Louisa Onomé
PUBLISHER: Delacorte Press
RELEASE DATE: February 23rd, 2021
GENRE(S): YOUNG ADULT FICTION–Contemporary


BUY: https://bookshop.org/a/11727/9780593172599

SYNOPSIS:

Fans of Netflix's On My Block, In the Heights, and readers of Elizabeth Acevedo and Ibi Zoboi will love this debut novel about a girl whose life is turned upside down after one local act of vandalism throws her relationships and even her neighborhood into turmoil.

Chinelo, or Nelo as her best friend Kate calls her, is all about her neighborhood Ginger East. She loves its chill vibe, ride-or-die sense of community, and her memories of growing up there. Ginger East isn't what it used to be, though. After a deadly incident at the local arcade, all her closest friends moved away, except for Kate. But as long as they have each other, Nelo's good.

Only, Kate's parents' corner store is vandalized, leaving Nelo shaken to her core. The police and the media are quick to point fingers, and soon more of the outside world descends on Ginger East with promises to "fix" it. Suddenly, Nelo finds herself in the middle of a drama unfolding on a national scale.

Worse yet, Kate is acting strange. She's pushing Nelo away at the exact moment they need each other most. Nelo's entire world is morphing into something she hates, and she must figure out how to get things back on track or risk losing everything⁠—and everyone⁠—she loves.
Like Home was an awesome read because it was totally diverse. The main character, Nelo, is African American, and her best friend, Kate, is Asian American. They live in a not-so great neighborhood, but for for Nelo her neighborhood is her world.
What was interesting to me when I first started the book was the language that was used. The slang and some of the terms were very modern for a high schooler, which was awesome, yet a little jarring to read for me being in her 30s, but it would be neat for someone in high school to read. However, I could also see it getting dated as well.
I really felt for Nelo during her struggles in this book. It's really tough being a teenager trying to navigate who you are in a changing world where you feel so alone and even your best friend isn't there to help you. I feel like at least everyone's been through some variation of that at one point in our lives to a degree.
I gave this book 4 stars.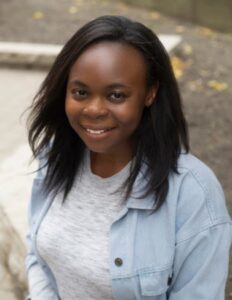 Louisa Onomé is a writer of books for teens. She holds a BA in professional writing from York University and is represented by Claire Friedman at InkWell Management.
A part of the Author Mentor Match round 3 cohort, she is also a writing mentor and all-around cheerleader for diverse works and writers. When she is not writing, her hobbies include picking up languages she may never use, trying to bake bread, and perfecting her skincare routine. She currently resides in the Toronto area.
Up for grabs, we have TWO (2) finished copies of Like Home by Louisa Onomé! This giveaway will run from February 21st to February 28th at 11:59 PM CST and is open to US residents only. To enter, click the link below!