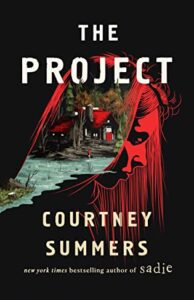 **Disclaimer: I received a free early access copy of The Project by Courtney Summers through NetGalley in exchange for an honest review.  Thank you to them and the publisher for this opportunity.
The Project by Courtney is an upper YA thriller novel about cults and complicated family relationships.  Lo is trying to figure out what happened to her sister. It is set to be published on February 2nd, 2021.  I rated it four stars on GoodReads.
Here's the summary from Goodreads:
Lo Denham is used to being on her own. After her parents died, Lo's sister, Bea, joined The Unity Project, leaving Lo in the care of their great aunt. Thanks to its extensive charitable work and community outreach, The Unity Project has won the hearts and minds of most in the Upstate New York region, but Lo knows there's more to the group than meets the eye. She's spent the last six years of her life trying—and failing—to prove it.
When a man shows up at the magazine Lo works for claiming The Unity Project killed his son, Lo sees the perfect opportunity to expose the group and reunite with Bea once and for all. When her investigation puts her in the direct path of its leader, Lev Warren and as Lo delves deeper into The Project, the lives of its members it upends everything she thought she knew about her sister, herself, cults, and the world around her—to the point she can no longer tell what's real or true. Lo never thought she could afford to believe in Lev Warren . . . but now she doesn't know if she can afford not to.
Courtney Summers has become one of my favourite authors and so I was really excited to read this book by her.  I'm intrigued by the concept of cults and so the fact that this one was about that, was really interesting to me.
It definitely held up to that.  I will admit that it's not my favourite Courtney Summers book, but it's still really compelling.  It really played up the whole 'who can you trust' kind of theme, which I found very interesting.  I always like when it's not the clearest and you have to sort of puzzle things out.
Lo was a really interesting character.  She's gruff and tough and I really respected her and what she was fighting for.  I empathized with her and the struggle she dealt with.  I wanted her to bring down The Unity Project and I wanted someone to believe her.  Courtney Summers did an excellent job with her as the main character.
I also enjoyed reading from her sister's perspective and learning, slowly, what things were actually like inside the Project.  I also found the different writing style between the two points of view really interesting.
Overall, the story was a bit of a slow burn.  It had a really good build up, and I think I preferred that to if it had been more fast paced.  Like I said, the whole not really knowing who to trust made for an interesting perspective and I feel like it needs to be slow to work with that.  I will admit that I also read it in bits and pieces, so that might be affecting my perspective a bit.
Overall, it was a really good story, and I found it very compelling.  I highly recommend that you check it out when it releases.