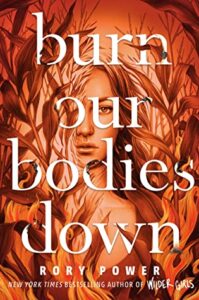 **Disclaimer: I received a free advanced reader's copy of Burn Our Bodies Down by Rory Power through NetGalley in exchange for an honest review.  Thank you to them and the publisher for this opportunity.
Burn Our Bodies Down by Rory Power is her sophomore novel.  It's a YA horror/mystery thriller.  The novel is about a girl named Margot who has a complicated relationship with her mother, and ends up returning to the town her mother grew up in to find out more about her family history.  It was published on July 7th, 2020.  I rated it 4 stars on GoodReads, but it's probably more of a 4.5.
This is the summary from GoodReads:
From the author of the New York Times bestseller Wilder Girls comes a new twisty thriller about a girl whose past has always been a mystery—until she decides to return to her mother's hometown . . . where history has a tendency to repeat itself.
Ever since Margot was born, it's been just her and her mother. No answers to Margot's questions about what came before. No history to hold on to. No relative to speak of. Just the two of them, stuck in their run-down apartment, struggling to get along.
But that's not enough for Margot. She wants family. She wants a past. And she just found the key she needs to get it: A photograph, pointing her to a town called Phalene. Pointing her home. Only, when Margot gets there, it's not what she bargained for.
Margot's mother left for a reason. But was it to hide her past? Or was it to protect Margot from what's still there?
The only thing Margot knows for sure is there's poison in their family tree, and their roots are dug so deeply into Phalene that now that she's there, she might never escape.
I recognize that this took me so long to actually get to reviewing, but that was only because I requested Burn Our Bodies Down a voice galley on NetGalley, and I was unable to download it prior to its archival date.  It just took me a while to get a copy of it to read.  Additionally, I really wanted to listen to it on audiobook.  I'm really glad that I finally got around to reading it, and honestly I think I liked it more than Rory Power's debut, Wilder Girls. 
The story revolves around Margot, who, as mentioned, has a complicated relationship with her mother.  She doesn't know very much about her family history and wants to know more, but her mother won't tell her anything about it.  They don't get along, and their relationship almost feels toxic.  This whole story seems to be about toxic family relationships, but they were a really interesting facet of the story.  There was love even when it maybe wasn't appropriate for there to be, but it never really seems glorified.  It's presented just as it is as complicated.  
The atmosphere of this novel was really interesting.  It wasn't what I'd typically call a horror atmosphere, but I can definitely see how in the end that's probably the most apt genre for it.  I like going along with Margot as she tried to figure out just what was going on.  I had theories that were developing in my head and most of them ended up being partially wrong but partially right.  It's a weird place to be.
I liked Margot a lot.  She was really well written and definitely  a relatable character.  You want her to figure out what's happening to her.  She's not necessarily the most likeable, but I still really enjoyed her.  She was well developed.
I won't spoil the twist for you, but in the end I loved how the story played out.  Like I mentioned, my theories were partially wrong, but they were also partially right and I was delighted about how things were portrayed.  It was freaky and very weird, but I really liked it. 
The side characters in this story were also very interesting.  I liked how they interacted with Margot and how they were developed.  I really enjoyed Tess especially, and the dynamic between her and Margot was really interesting.  
There were parts of this book that were definitely gross, but I will admit that I didn't find it overly scary.  It was spooky though, and I found myself cringing a couple of times as I listened to the descriptions of various characters.
Overall, I definitely recommend Burn Our Bodies Down and you should check it out if you haven't already.