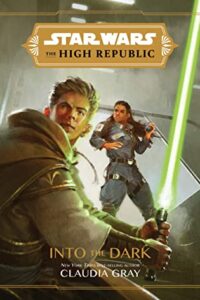 ***Disclaimer: I received a free early access copy of Star Wars The High Republic: Into the Dark by Claudia Gray from NetGalley through Disney Lucasfilm Press for review purposes. Thank you so much for opportunity.
I've been in such a Star Wars mood lately! All thanks to my husband, who is making his way chronologically through every Star Wars book. We also watched Clone Wars and Rebels rather recently and the stories in those really got my hooked as well.
I haven't had the pleasure of reading Claudia Gray's other Star Wars books, however, this one has definitely sealed my fate.
Goodreads summary:
Padawan Reath Silas is being sent from the cosmopolitan galactic capital of Coruscant to the undeveloped frontier—and he couldn't be less happy about it. He'd rather stay at the Jedi Temple, studying the archives. But when the ship he's traveling on is knocked out of hyperspace in a galactic-wide disaster, Reath finds himself at the center of the action. The Jedi and their traveling companions find refuge on what appears to be an abandoned space station. But then strange things start happening, leading the Jedi to investigate the truth behind the mysterious station, a truth that could end in tragedy….
Though it was a bit hard to get into at first because of the new characters and initial lack of "usual" connection (ie characters we all know and love), this proved to be a great story that brought new lore and seamlessly combined it with an already well-established and well-loved universe.
I loved seeing the different aspects of the journey from a Padawan, a Jedi Knight, two Jedi Masters (with flashbacks from their own times as Padawans) as well as the regular civilians with little to no knowledge of the Jedi whatsoever.
It was also great seeing characters who questioned the Jedi Order. Without light, there is no dark and vice versa. It was nice to see that even though the times were thriving for the Jedi Order, some of the members questioned the ways of the Jedi.
Though this book is YA, it's definitely a fun read for anyone for any age. There was a lot of action, some darker moments, but also good lessons.
Overall, I gave it 4 stars.