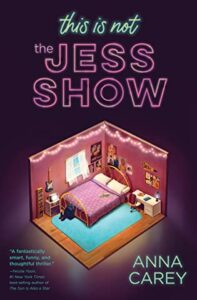 **Disclaimer: I received a free early access copy of This is Not the Jess Show by Anna Carey through NetGalley in exchange for an honest review.  Thank you to them and the publisher for this opportunity.
This is Not the Jess Show by Anna Carey is a young adult thriller novel set in the 90s.  Jess is just trying to get through life and her sister's illness while balancing complicated feelings for her best friend when she starts to realize that perhaps things are not what they seem. It is set to be published on January 5th, 2021.  I rated it five stars on GoodReads.
Here's the summary from GoodReads:
A timely YA thriller about a teenage girl whose reality may not be what it seems, blending 90s nostalgia with a speculative hook that dissects our modern reality TV and influencer-obsessed culture.
Like many teens, sometimes it feels as though everything in Jess Flynn's life has been engineered for maximum drama–from her performance at the school talent show, to the reappearance of her childhood best friend and perennial crush Jeremy, to her friends trying to set her up with one of the hottest guys in school. It's almost as if everything might finally be going her way…until one day a tiny black phone with an apple logo on its screen falls out of her best friend's backpack and lands at Jess's feet.
The problem is, it's 1998, and the first iPhone isn't due out for another nine years.
Jess's friends refuse to acknowledge the strange device. Her sister Sara, on hospice care with a terminal blood disease, for once can't tell Jess what she should do. It's almost as if everyone is hiding something from her. Even her beloved dog Fuller seems different…like, literally different, because he definitely didn't have that same pattern of spots on his stomach last week…
Nothing in Jess Flynn's world is as it seems, and as the cracks begin to show, Jess will discover her entire life is nothing more than someone else's entertainment. Except in this reality, the outside world is no place anyone would want to escape to.
I requested this book, got approved and then promptly forgot what it was about.  By the time I got around to reading it, I had to read the summary again to know what it was about and instantly I realized why my interest was piqued by this story.  It's got total The Truman Show vibes, which I absolutely loved.
The protagonist of the novel, Jess Flynn, is fantastic.  She's very interesting and empathetic.  I really liked how she interacted with the world around her and the people around her.  She seems so normal, which in itself is interesting, and it's easy enough to take the story at face value until you can't take her simple existence at face value anymore.
The instant things start to get complicated, I found myself really devastated for her.  I wanted the people around her to be honest, and then when they were, I found myself crying because I felt so bad for her.  It was really interesting to watch Jess try and put it all together and solve the mystery of her life.
I really liked how Anna Carey wrote this book, and I'm really excited to continue on in this world considering Goodreads says that it's a series.  I'd be okay if it was a standalone, but it was really interesting.
I highly recommend that you pick this book up when it comes out on January 5th.