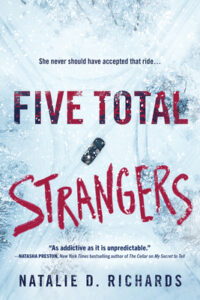 **Disclaimer: I received a free early access copy of Five Total Strangers by Natalie D. Richards through NetGalley in exchange for an honest review.  Thank you to them and the publisher for this opportunity.
Five Total Strangers by Natalie D. Richards is a young adult thriller novel set on Christmas Eve.  A high school senior is just trying to get home to her mother for Christmas, and ends up getting into a car with four strangers and then getting caught in a snow storm. It is set to be published on October 6th, 2020.  I rated it three stars on GoodReads, but it's probably about a 3.5.
Here's the summary from GoodReads:
A hitched ride home in a snow storm turns sinister when one of the passengers is plotting for the ride to end in disaster.
When Mira flies home to spend Christmas with her mother in Pittsburgh, a record-breaking blizzard results in a cancelled layover. Desperate to get to her grief-ridden mother in the wake of a family death, Mira hitches a ride with a group of friendly college kids who were on her initial flight.
As the drive progresses and weather conditions become more treacherous, Mira realizes that the four other passengers she's stuck in the car with don't actually know one another.
Soon, they're not just dealing with heavy snowfall and ice-slick roads, but the fact that somebody will stop at nothing to ensure their trip ends in a deadly disaster.
I was definitely intrigued by the premise of this book.  I like thrillers and I like books set in wintery, somewhat isolated locations. I also like the premise of an unlikely group of people travelling together, and since this book ticked all of those boxes it definitely seemed like a promising read.  I'll say that while it didn't quite meet my high expectations for the book, it was an interesting enough story.  I just don't think that it fully reached its potential.
Mira, as a main character, was really interesting.  She had some good depth to her, and was fleshed out in a way that none of the other characters really seemed to be.  Obviously, since it was predominantly a cast of strangers and we see them through Mira's perspective, the rest don't necessarily need to be as fleshed out.  However, you empathise with Mira and you worry for her as the story unfolds and more details are revealed.
The atmosphere and setting of the story were a real highlight for me.  The snowy landscape makes everything a little bit more high stakes and scarier.  The snow is also the driving force for everything that happened.  Mira never would have gotten into the car if it weren't for the snow storm.  They never would have gotten into any of the various situations they encountered if it weren't for the snow.  There's so much more danger when it comes to the snow because the roads become more unsafe, and it's unsafe in general.
There was a lot of build up towards the climax and a lot of good red-herrings.  Mira is clearly frightened, and along the way she jumps to a lot of conclusions.  It kept me guessing, which is great.  However, I just think that ultimately it's not going to leave a super long lasting impression on me.  It was what it was, and I had fun reading it, but I don't think it's something I'd revisit.