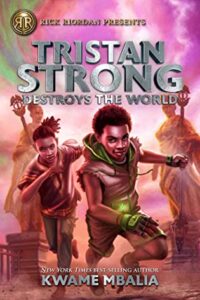 **Disclaimer: I received a free early access copy of Tristan Strong Destroys the World by Kwame Mbalia through NetGalley in exchange for an honest review.  Thank you to them and the publisher for this opportunity.
Tristan Strong Destroys the World by Kwame Mbalia is a middle grade fantasy novel that is a part of the Rick Riordan presents series.  It is the second book in Tristan Strong series. It is set to be published on October 6th, 2020.  I rated it four stars on GoodReads.
Here's the summary from Goodreads:
Bestselling author Rick Riordan presents the second book in the New York Times best-selling Tristan Strong trilogy by Kwame Mbalia. Tristan Strong, just back from a victorious but exhausting adventure in Alke, the land of African American folk heroes and African gods, is suffering from PTSD. But there's no rest for the weary when his grandmother is abducted by a mysterious villain out for revenge. Tristan must return to Alke–and reunite with his loud-mouthed sidekick, Gum Baby–in order to rescue Nana and stop the culprit from creating further devastation. Anansi, now a "web developer" in Tristan's phone, is close at hand to offer advice, and several new folk heroes will aid Tristan in his quest, but he will only succeed if he can figure out a way to sew broken souls back together.
I'm really enjoying this Rick Riordan presents series as it's really allowing me to learn about areas of mythology that I might not have.  I recognize that I need to do more to seek out knowledge about other cultures, but I really enjoy the way these stories are presented.  I enjoyed the first book in this series when I listened to it as an audiobook.  I was excited to get access to read the sequel in advance.  Since it is a sequel, I am going to keep my review vague and brief so as not to spoil the first one.
Honestly, I really enjoyed this book, and I think I liked it a lot more than the first one.  I already had an idea of all the characters we were re-encountering so seeing them again was really fun.  The stakes of this story were a lot higher, which was really interesting to explore.  You saw the direct effects of the previous story on the world of Alke, and you see Tristan struggle with his legacy and how things maybe weren't as simple when one is a hero as one might think.
I liked that we got a greater depth to Tristan's family and learned more about his Nana as a character.  The family legacy was a nice aspect to explore and I just really enjoyed the dynamics between Tristan and his grandmother.
The tension throughout the story was good, and there was enough action to keep you interested as a reader and keep you guessing about what hijinx Tristan is going to get into next.
Overall, I had a super fun time reading this and I highly recommend it and the first book in the series.  Be sure to check it out when it comes out on the 6th of October.