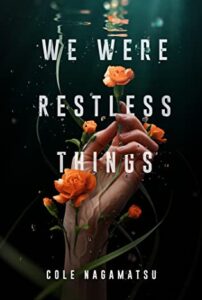 **Disclaimer: I received a free early access copy of We Were Restless Things by Cole Nagamatsu through Netgalley in exchange for an honest review.  Thank you to Netgalley and the publishers for this opportunity.
We Were Restless Things by Cole Nagamatsu is a young adult contemporary fantasy novel.  It features three different points of view from a group of friends who are investigating this mysterious lake.  The book is set to be published on October 6th, 2020.  I rated it 3 stars on Goodreads.
Here's the summary from Goodreads:
From debut author Cole Nagamatsu comes an atmospheric contemporary fantasy about three teens coming of age in the wake of a mysterious death.
Last summer, Link Miller drowned on dry land in the woods, miles away from the nearest body of water. His death was ruled a strange accident, and in the months since, his friends and family have struggled to make sense of it. But Link's close friend Noemi Amato knows the truth: Link drowned in an impossible lake that only she can find. And what's more, someone claiming to be Link has been contacting her, warning Noemi to stay out of the forest.
As these secrets become too heavy for Noemi to shoulder on her own, she turns to Jonas, her new housemate, and Amberlyn, Link's younger sister. All three are trying to find their place—and together, they start to unravel the truth: about themselves, about the world, and about what happened to Link.
Unfolding over a year and told through multiple POVs and a dream journal, We Were Restless Things explores the ways society shapes our reality, how we can learn to love ourselves and others, and the incredible power of our own desires.
The thing that drew me into this book is the premise.  It seems like a fascinating concept, a lake that only some people can find? A mysterious death? Sign me up! I will admit that there is also a bit of the cover buy aspect that drew me in because the cover of this book is absolutely gorgeous.  However, I didn't enjoy this book as much as I really wanted to.
The book is definitely atmospheric and I really liked all the descriptions that were included. The forest was eerie and ominous, and I did really enjoy the feature of the mysterious lake.  I also really liked the characters.  They were well written and the points of view were well defined.  Each character felt really unique, and I liked that it included asexual representation.
That being said, I didn't necessarily love how it all came together.  I feel bad rating this book on the lower end for me, especially since it's in part because I had a different expectation for it.  However, I can't help that that is how I feel.  It was a slowburn of a story and I think I just expected something a little bit different.
The other reason for my lower rating is that I didn't really enjoy the romance that developed between Noemi and Jonas.  They were set up to be potential future step siblings and I just can't really condone a relationship between them.  It's just not something that I enjoy.  However, I liked how Noemi was able to advocate for herself when it came to her asexuality and make characters understand where she's coming from.  I just would have preferred if she had ended up with Gaeten.
However, the book is still worth checking out, and if you're intrigued by the premise you should give it a shot!